Shopping in Amsterdam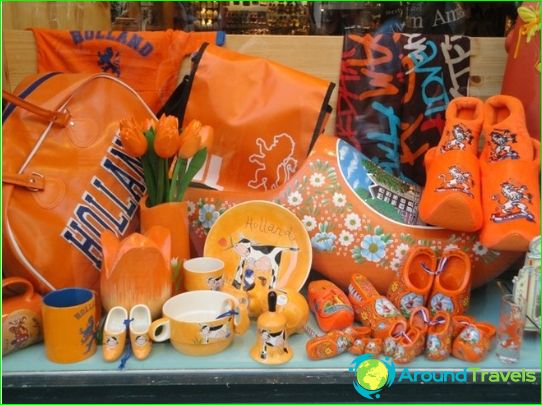 Amsterdam is not only the capital of the KingdomThe Netherlands, but also one of the main European shopping centers, which will please its scale and attractive seasonal sales. In Amsterdam, as in many other cities around the world, there are a few main shopping streets. This could include the Damrak, Rokin, Kalverstraat, Leidsestraat. You can buy all these streets that just come to mind. The main thing - to have the desire.
Uneasy is the problem, determine that bring from Amsterdam? It is better to make a list in advance of possible purchases.
Clothing and footwear. As for clothing and footwear, the local shops and boutiques can offer a wide range of products as well-known brands as well as local Dutch producers. Here you can find almost everything that can satisfy even the most discerning shopaholic. Well, how can you not remember the well-known varieties of shoes, which is a symbol of the Netherlands. Of course, it clogs "clogs", a large number of which can be found in any souvenir shop of the city.
Jewelry and diamonds. Amsterdam has long been known as a city where you can buy the best decorations. Here are the most famous factories for the processing of precious stones. Total in Amsterdam has five major diamond factories. One of them - Amsterdam Diamond Center is located on one of the main shopping streets of the city - Rokin. You can not only buy diamonds, but to see how to create a work of art. Amsterdam Diamond Center has at its disposal a huge collection of jewelery and watches from the 35 most famous brands, for example, such as Chopard, Chanel, Cartier, Breguet, Rolex and many others. Diamonds are purchased in specialized centers have a quality certificate.
Dutch tulips. Amsterdam - a city of flowers. For most people, it is associated with such a beautiful flower as the tulip. Tulips of various sorts can be found in any area of ​​the city. At the same time the most famous point of sale of these and other flowering plants is the flower market Blumenmark located near the airport. Here buyers offer about 80 kinds of tulips and about 500 varieties of daffodils. It is the world's only floating market of these plants.
True gourmets will not leave Amsterdam withouttaking with them the local delicacies - the famous Dutch cheese, candy and cookies. A delicious Dutch cheese - it's the most pleasant souvenir. The most delicious cheeses, according to tourists, are Edam and Gouda. Also, demand sharp cheese, goat cheese and cheese with caraway seeds.
What to buy in Amsterdam of sweets and spirits? From Amsterdam should definitely bring a two-layer wafer biscuits and chocolate, and alcoholic drink juniper vodka - Jenever.
Number of Photos in Amsterdam