Where to eat in Amsterdam?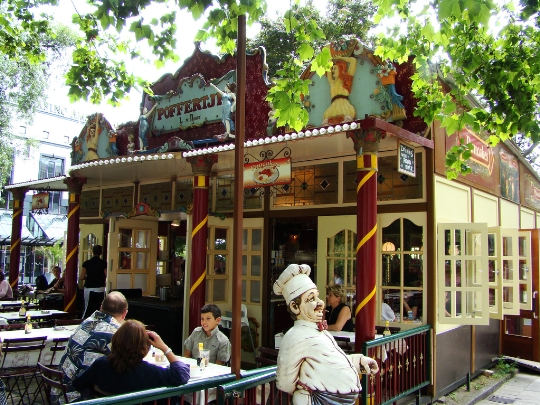 Do not know where to eat in Amsterdam? The city opened more than 300 cafes, restaurants (French, Italian, Asian, Greek) and eateries.
In Amsterdam, you can enjoy traditional Dutch food - cheese, a herring, a local french fries with gravy, peas, meat soups.
Where to eat in Amsterdam cheaply?
Cheaply you can eat in the student cafeteria,for example, Mensa Atrium University Restaurant. Then for the soup, and fruit yogurt you pay 5-6 euros. Budget can dine in Eatcafe Pakhuis - in this institution for 7 euros you can try "dish of the day" (eg, steak, salad, french fries).
If you are not the enemy of street food, you shouldlook at the numerous kebabnym: 5-6 euros you will be served a huge plate, on which will be based on meat, vegetables and french fries. So worth a visit Leeman Doner (Pijp district). In addition to kebabs, here you can enjoy a Turkish pizza, costing 2-3 euros.
Where to eat in Amsterdam tasty?
Greenwoods: is an English café offers eat scrambled eggs with feta cheese and cherozo, mushroom soup, carrot cake, cinnamon ice cream (in this place there is also a vegetarian menu).
Gartine: in this cafe for breakfast and lunch. For breakfast you can order a sandwich with shrimp and yogurt with mascarpone and lunch - soup, salad, lemon meringue pie.
RED Amsterdam: in this restaurant you can sample the culinary delights of different cuisines. So, here you will be able to eat steak, lobster, lemon cake, chocolate dessert with blue cheese, sweet wine (average dessert here is 8 euros, lobster serving - 24 euros).
Vermeer: ​​in this place is for lovers of meat, fish, seafood-based dishes (it is advisable to book a table in advance).
Koh-i-Noor: This Indian restaurant offers a fast service, great food and reasonable prices. It is worth to try the shrimp masala and chicken in coconut sauce.
Gastronomic tours in Amsterdam
If you decide to go on a gastronomic cruisethe canals of Amsterdam, you will have to wait for an exciting journey, during which the ship will carry a special stop at the city's best restaurants (each of them you can taste delicious authentic). If desired, you can visit the workshops for the manufacture of cheese or smoked eel. And a walk to Amsterdam accompanying guide will take you to the Museum of Bols - here besides tasting Genie, you will be offered to try Bols liqueurs with different flavors (if you wish, bartenders will teach you to cook some cocktails, conducted a master class for you).
Almost every institution of Amsterdam you feed a delicious and hearty meal, so where to go for the satisfaction of hunger - the diner or the fine-dining restaurant, you decide.
Photo