Locks Holland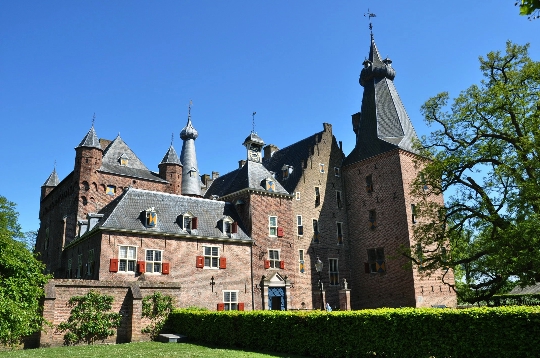 History of the Kingdom of the Netherlands is literallysaturated with vivid events, bloody wars, the struggle of people against the elements and each other, the tragic events and the blossoms, the ups and downs. As in other countries of the Old World, in the kingdom there were certain historical and cultural traditions, which in part found expression in architecture. Mastery of Dutch architects manifested in the construction of the majestic castles of Holland, and today the stunning perfection of form and the viewer Q performance.
In the medieval walls
In the Middle Ages, European castles became the maina guarantee of security of their residents. Stone impregnable walls and rescued from small scams and unwanted guests from larger. The most famous Dutch castles were built in XIII-XVI centuries, at the time of troubles and anxious time for human life highwaymen were rarely given more than one guilder.
Today, the Kingdom of the Netherlands remained about two dozen restored medieval castles, among which the most interesting tourist attractions are:
Muiderslot. Located 15 km from the capital. The most preserved and restored building of the XIII century in the mouth of the Vecht river was used for the collection of taxes from the owners of the boats going down the river to Utrecht. With the loss in the XVII century defensive features, the castle became the residence of the enlightened nobles and officials and the literary salon. Today in this castle Holland opened a branch of the State Museum in Amsterdam, and its interiors are regularly flashed in the programs of local TV channels.
Ridderzaal. Part of the royal residence in The Hague. Built in the XIII century by Count Floris V. In the years served as a hospital and a book shop, the office of public services and the residence of important dignitaries. In today Riddenzaale are official royal receptions, and the current monarch is drawn away from the solemn speeches to his subjects.
Hemstede. Landmark Dutch classicism of the XVII century in the same city in the province of North Holland. It was built as a luxury residence and had beautiful gardens, stables, fountains and pavilions. Repeatedly experienced decline and renaissance periods, burned and rebuilt.
Useful things
With the city's Dutch castles standing orderguided tour. So you can not only admire the magnificent interiors and the opening of the surrounding views, but also to get acquainted with the most interesting stories of the structures and of the Kingdom of the Netherlands.
Generally in the Netherlands castlearranged a varied entertainment program, theme parties and photo shoots, to learn about the timing of which can be on the official pages of the country's Ministry of Culture.
Photos Holland locks