The Dutch kitchen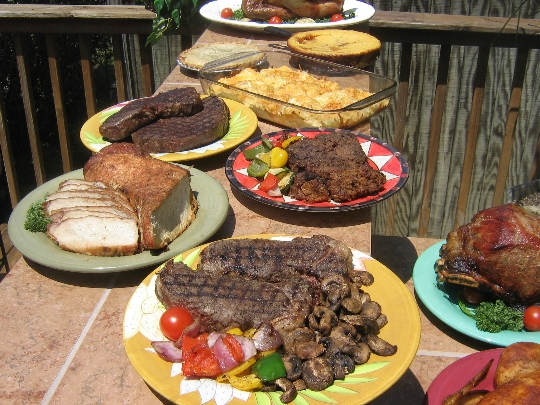 Dutch cheese tried at least once in their lives, evenpeople are very far from the travel and does not happen in the Netherlands. And what is more famous cuisine of Holland but fragrant and spicy Gouda Edam? Get the answer to this question is not difficult in any cafe or restaurant in Amsterdam and The Hague, Haarlem and Rotterdam.
Not a single cheese
Kitchen Holland has one thing in common withculinary traditions of other Nordic countries. It is not too diverse, but soundly, it serves no different sophistication, but its absence is compensated by satiety and thoroughness. In a saucepan of soup from a local hostess spoon is in the truest sense of the word, and a plate of beef stew able to satisfy even the most weary traveler.
At lunch in the Kingdom of the Netherlands has traditionallyand serves snert stamppot. The first name - it's just a pea soup, but it is very thick and nourishing. Smoked - an indispensable component snerta, but because it is possible to particularly fragrant. The second dish on any Dutch cuisine at lunchtime - it is usually mashed potatoes with sausage, ideally set off the grated vegetables. Stamppot complements the meal and makes it full and complete. Those who were able to leave the force for dessert on the table are sweet puddings, yogurts, strupvafli and molasses.
About avarice Dutch
Not more than one cookie usually served here tocup of coffee, which is the country's inhabitants used to drinking at 10 am and 7 pm. Some regard it as excessive greed, others recall the anecdote about how, in the late 40-ies of the last century so much pastry served with coffee to the American diplomat, in order to convince him that the allocated funds for the post-war aid spent properly.
One way or another, but the coffee in the kitchen of Holland takesimportant role and do not mind the locals miss another cup during traditional coffee breaks. Equally popular hot chocolate, great weather warms during the troubles, and lemonade Kwast supplied warm.
Cheers!
Toasts Dutch most pronounced for a bottle of beer or a glass of juniper gin "Jenever". The most common beers - lager famous brands Heineken, Amstel and Grolsch.
In the Kingdom of the Netherlands is very loved and respectedmembers of the royal family. On the occasion of the holidays in a noble family on the tables of their citizens certainly appear brandy made from oranges the traditional orange of Holland.
Photo