Traditional cuisine of the Netherlands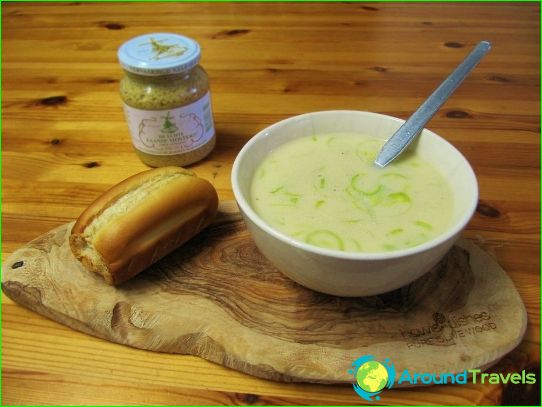 Meals in the Netherlands is characterized by the fact that the local cuisine is simple and delicious dishes.
Food in the Netherlands
The diet of the locals contains meat, fish, rice, vegetables, dairy products, soups (soup is a popular base ham, smoked sausage, carrots, celery, peas).
The Netherlands should try Dutch cheese(Edam, Maasdam, Gouda, Maaslander, Leerdammer); salted herring; pea soup; Dutch pancakes with apple, cheese and other toppings (pannenkoeken); mashed potatoes with sauerkraut (zuurkool); beef stew, fried in breadcrumbs (kroketten); smoked eel (derookte paling);
Where to eat in the Netherlands? At your service:
restaurants with European and Sino-Indonesian cuisine;
snack bars, street stalls and other fast food places (McDonalds, FeBo).
During the rest of the country, you can tryA variety of cuisines, for example, in the big cities you will be able to taste Thai food ( "Nieuwmarkt", Amsterdam), and in the Chinese areas - enjoy authentic Chinese food.
In the Netherlands, you will never be hungry - oneach bus stop you will meet local eatery called "cafeteria" and "friture" - here you can buy chips, ordering him ketchup, mayonnaise, cold applesauce, peanut or curry sauce.
If you decide to visit a restaurant, you shouldconsider that to wait for your order you will have for a long time (here is not taken quickly serve customers, because here do not go hastily to eat and relax with your family or friends).
Drinks in the Netherlands
A popular drink in the Netherlands are tea, coffee, juice, cocoa, beer, liquor, juniper vodka (Jenever).
In a country cook different kinds of beer (light to dark), so fans of beer worth a try Heineken, Bavaria, Brand, Amstel, Grolsch, Oranjieboom.
Gastronomic tour in the Netherlands
Lovers of cheese can go on a tour,includes visits to Big cheese market in Alkmaar, as well as the town of Edam, which is produced Edam cheese. In addition, you can taste Gouda cheese while visiting a family cheese production and cheese museum.
Since the country is famous not only for cheese, but alsowine, under the gastronomic tour you can visit the wine farms (where they are more than 200). So, for you to organize a trip to the oldest winery Apostelhuve (it is in the province of Limburg), where you can learn the technology of production and taste different varieties of wines.
If your goal - to learn how to cook their own hands national cuisine under the guidance of an experienced chef, you have to go to culinary school, which is located in The Hague.
Netherlands - not only a country of windmills, canals and tulips, but also delicious meals (every year an increasing number of restaurants, which are awarded Michelin stars).
Photos Netherlands national dishes