Holiday tulips in Holland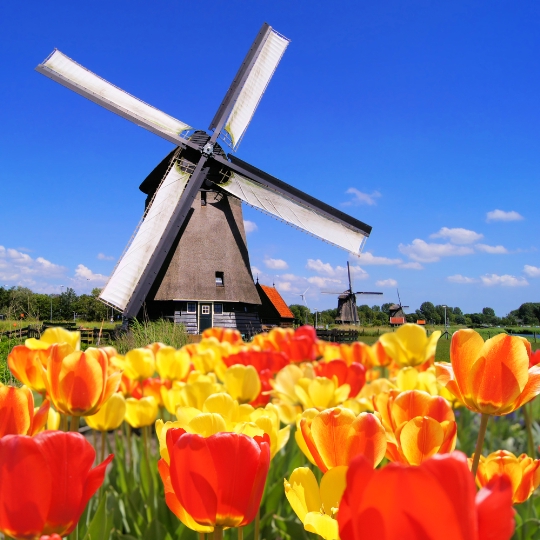 The main event of the Kingdom of the Netherlands, annuallyStart at the end of April - Flower Festival Bloemencorso Bollenstreek. This colorful and bright tulip festival in Holland has no equal in the world, and hundreds of thousands of tourists are its visitors.
Spring extravaganza
Late April and early May - the time of floweringtulip, symbol of Holland and the favorite flower of the kingdom inhabitants. At this time, all over the country exhibitions and shows colors and Blyumenkorso among them - the most colorful and significant. The script and the idea of ​​annual changes and each subsequent celebration of tulips in Holland is much more spectacular the last.
The parade will start on the third Saturday of April in the townNoordwijk and its path lies on the main route vosmidesyatikilometrovomu kingdom's roads. One of the most significant points - Park Kёkenhorf and luxurious finishes and colorful action in the city of Haarlem.
In the rhythm of carnival
The passions that boil in colors paradeHolland, are comparable in size only to the filament carnival procession in Brazil. Hundreds of thousands of spectators along the entire route of the parade participants welcome. They root for pets, singing and dancing, and the process itself is noisy, bright, surprises and delights unprecedented scale. Dozens of mobile units, platforms and cars are decorated with compositions of the millions of flowers, brass bands provide background music and vivid floral paintings and sculptures stagger the imagination. Each year, the main theme of the parade changes, introducing the world famous artists, musicians and discovering interesting pages Dutch history.
Haarlem holiday turns into a grandflower exhibition that the next day is available for spectators. It was there that selects and awards the winner among the participating mobile platforms and arranged the sale of bulbs favorite residents of the Netherlands tulip varieties.
Useful things
Most memorable holiday in action tulipsHolland takes place in Kёkenhorf park. He throws open its gates in the 20 days of March and running for about two months. In the park you can admire flowers on only during the parade, but also in any other spring day. For visitors Kёkenhorf opens daily at 8 am.
During the celebration of tulips in the Netherlands ismore tourists than usual days. Hotels and air tickets at this time is better to book in advance, and from the rental car should refrain - parking will not be able to find the area of ​​a festive procession.
Photo