Amusement parks in Holland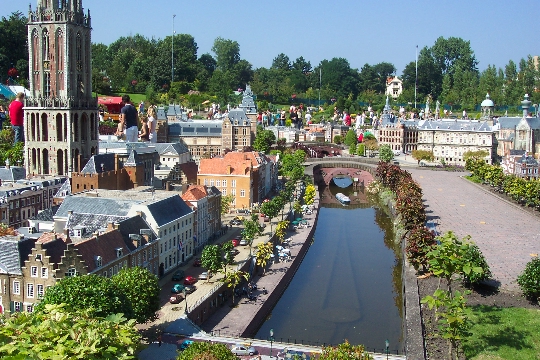 Residents of the Netherlands lovefun. In the country there are many theme parks, where you can spend the whole day and the whole family enjoyed the rides, carousels, communicate with each other and the smaller brothers. The most popular amusement parks in the Netherlands are well known and Russian tourists:
Duinrell. The park is one of the largest in the kingdom. At least a million visitors each year here plays tennis and flying into the abyss of a roller coaster, jumping on trampolines, and dives into the waterfalls on tobogganing, applauds the actors of the puppet theater and learn to control the train. One of the most popular amusement parks in the Netherlands works with 10 to 18 hours, and the entrance for kids under 4 years old do not have to pay.
Mini Holland not far from The Hague - thatMadurodam is a park of entertainment. Its territory contains a small copy of the most famous sights of the kingdom - and the architectural and natural. In the park you can get acquainted with the typical Dutch landscape, walk on well-groomed parks and gardens and marvel at the scale of 1:25 erected in palaces and cathedrals. Park always opens at 10 am, but the time of its closure depends on the time of year. Children up to 3 years old can be entertained here for free.
Efteling. Country House Fey and Vampire Tales and City Pandadrom - this amusement park in the Netherlands are equally interesting and the kids, and their parents. Themed Attractions and small theater performances, daily parades and competitions will make a variety of leisure and fun. The object opens on April 1 and runs until November 1, daily from 10 am.
Keukenhof is waiting for the first guests at the end of March. For two months in the amusement park in the Netherlands, you can enjoy millions of flowering plants. Roses and orchids, lilies and tulips make the park look like a magic carpet woven by nature. Third Saturday of April - the traditional colors of the parade, which takes place across the country. Participants bright processions and drop into the park, which is now becoming the most popular place in the kingdom.
For smaller brothers
For those who like to communicate with the animals in the KingdomNetherlands opened ZOO Artis. This Amsterdam Zoo was established in 1838 and is one of the oldest in Europe. More than six million animals in the environment, as close to the natural, amazing adventures on children's farm, a visit to the planetarium and the fascinating history of the emergence of Amsterdam canals - Zoo visit program seems interesting to all participants of a family tour to Holland.
Photo