Metro Rotterdam: map, description, photos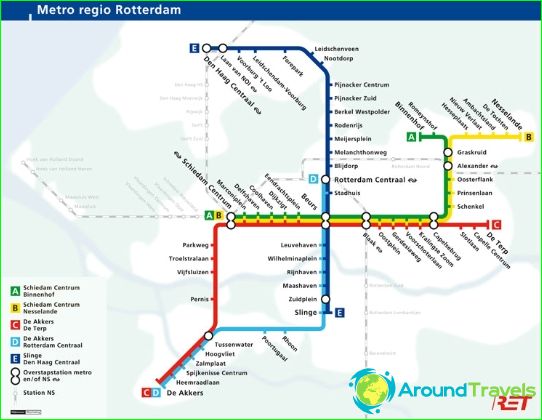 Rotterdam Metro map
Metro Rotterdam combines central regionsthe city and the surrounding municipalities. This is the main function of the subway, as the central part of the city has successfully served the top public transportation. Due to the fact that the distance between stations is relatively large, the average speed of the underground train rather high.
The first line of the North - South was opened in 1968,she laid under the river Nieuwe Maas and joined Centraal Station and Zuidplein. It was the first underground in the Netherlands. At the same time, he was one of the smallest metro in the world - the line length is only 5.9 km away.
the second line of the East was opened in 1982 -West Capelsebrug between stations and Coolhaven. In the late 1990s, the line was commissioned in North - South and then East - West. Since December 2009, these names have been replaced with more informative combinations of letters and flowers to the difference between the individual branches was more obvious and evident.
Underground occupies a small part of the subway,the bulk of the runs on the surface of the ground or on trestles. The reason for such a project - the construction was carried out on the plot and the possibility of flooding, as most areas of the city are below sea level.
Hours Metro Rotterdam
Hours Rotterdam subway depends on the line, but the overall working hours correspond to the following modes: from Monday to Saturday from 5:30 to 0:15, on Sunday from 7:30 to 0:15.
Tickets for the metro of Rotterdam
Tickets (disposable and rechargeable chip cards)for travel on the subway Rotterdam valid in any of the city public transport. Tickets can be bought from vending machines en stations, kiosks and stores certain types of travel cards can be purchased from the drivers of trams and buses. Discounts apply to children from 4 to 11 years of age and older passengers over 65 years old. For children up to 4 years old travel free Best Option guests - the acquisition of Rotterdam Welcome Card Card for 1, 2 or 3 days, which will allow unlimited travel around the city and visit the over 250 top attractions: museums, theaters, restaurants and clubs in Rotterdam.
Metro Pictures Rotterdam
Rotterdam Metro map