Netherlands Traditions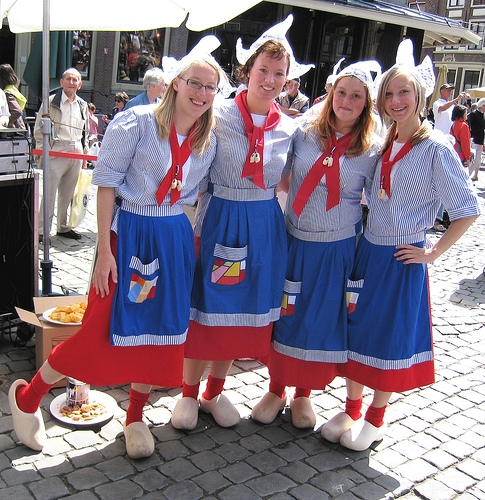 The world is considered to be the country windwindmills and wooden slippers - one of the most democratic and free states, where there are no specific rules of conduct. In fact, it appears that the tradition of the Netherlands is very strict, and the locals are a special pleasure to follow them on from generation to generation.
Small spool but precious
This is a list of national holidaysNetherlands. In the calendar, red kids quite a bit, but each decided to celebrate in a big way. Christmas, traditionally one of the most popular holidays in the Old World, and the Netherlands is no exception. Christmas family gatherings are accompanied by a lavishly set tables and copious libations, and the next day are made to honor the saint by the name of Stephen, who manages the livestock. In honor of the patron saint of cows are held lavish celebrations and even carnivals
They love the people of the Netherlands and his queen, the daybirthday which is celebrated on 30 April. On this day the good old traditions of the Netherlands turn into bright orange field: clothing and plenty of festive accessories of orange color looks like a solid orange carpet.
Celebrate New Year on the squares and streets of the night festivities and fireworks. Then the youth rushes to nightclubs, and the older generation - home to TVs and appetizers with cocktails.
Accuracy - courtesy of the Dutch
Having been invited to a meeting, tryto come on time. One of the nice traditions of Holland - punctuality of its inhabitants, and therefore the delay is not honored. Lunch in the country of tulips begins at 18 o'clock and sit at the table made in exactly the appointed time.
Stingy Dutch observe moderation in eatingand waiting for the manifestations of thrift from their guests. It should not take more than one cake at teatime or self-impose themselves snacks, being on a visit. For food distribution meets the hostess or her husband. After receiving an invitation to a restaurant or cafe, be prepared to pay for themselves. Traditions of the Netherlands include separate account even for couples on a romantic date.
Useful things
Courtesy and friendliness - a nice tradition of the Netherlands, and therefore do not forget to greet at the entrance to the store or cafe.
Do not smoke in public places. It is illegal and not welcome the residents of the country.
Handshake at the meeting is enough to show good feelings. Of particular relevance to the familiar person can show a light kiss on the cheek.
Photo