Netherlands Trains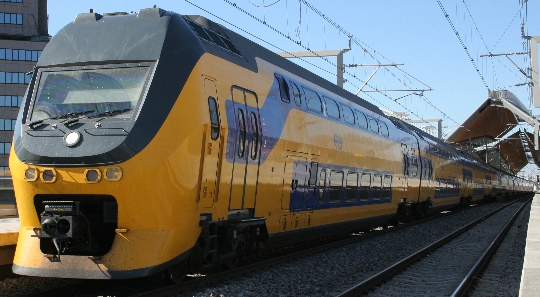 In the Netherlands, for travelers are all conditions for comfortable driving. Trains are inexpensive and have good service.
Train travel in the country is concentrated,mainly around the capital. But long point of the Netherlands is also available through a variety of branches that extend from the center to the periphery. The main directions of the country: Amsterdam - Schiphol airport and then to Belgium via Rotterdam.
Purchase tickets
Train tickets are not bought in the Netherlandsbeforehand. They acquire before leaving the train at the station. There are fixed prices for w / tickets, which are calculated taking into account the length of the route. Train timetables can be seen on the website ns.nl. railways There are shown in ticket prices. However, you can not buy a ticket on this website. To this end, should go to the station ticket office. These offices operate in each country station. The ticket shall be valid from the date of purchase within one day. Before boarding the train must be validated in a special terminal on the platform. For children up to 4 years old travel free. Children from 4 to 11 years receive a discount at the w / e tickets. If necessary, you can purchase a ticket from the conductor on the train, but it will cost more than the ticket purchased at the box office.
What kind of passenger trains used
Netherlands Railways is one ofthe busiest in the world. In any locality of the country can be reached from Amsterdam. Trains depart from the Central Station every 15 minutes. The movement does not stop at night. Hourly trains depart from Rotterdam, following in Utrecht.
The main carrier on the railway road of the kingdom- The company Nederlandse Spoorwegen, which belongs to the electronic resource ns.nl. This company offers a place in ordinary passenger trains, express trains, the Sprinter trains (go with all the stops). Each platform is designed to stop a certain class of train. In the Netherlands, operating as smaller rail carriers: Arriva, Veolia and others.
International travel
From the Netherlands can be reached by railGermany, Belgium and other European countries. Passengers are offered tickets Europass, Inter Rail and others. Train schedule in the Netherlands presented at www.nsinternational.nl site. There you can book a ticket. The fee for early booking is 3.5 euros. To advantageous to travel the Benelux countries are encouraged to buy a Eurail Pass ticket. Its analog is the ticket Inter Rail Pass.
Photo