Transport in the Netherlands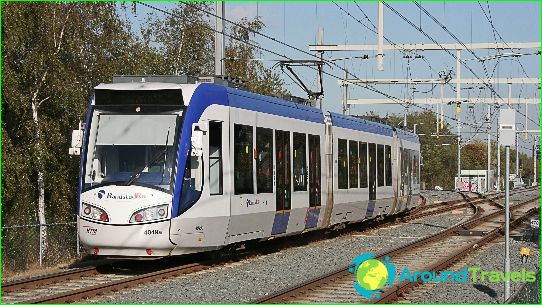 Transport in the Netherlands is famous for its extensive system of expressways and highways, bus and rail networks covering the whole country.
The main modes of transport in the Netherlands are:
- Public transport: it represents the trams, buses, trolley buses. And Amsterdam and Rotterdam have also subway. Monitor schedule can be on an electronic scoreboard, posted at the stops.
Entry into public transport should be through the back door. However, passengers having with them a multi-day tickets (they need to present to the driver), have the right to enter through the front door.
- Train: You can move around the country on a long-distance trains and ambulances, making stops at all stations.
In some areas, for example, from Amsterdam to the northern areas there are no direct flights, so you have to change trains.
To purchase tickets is to go to theautomatic checkout where you can pay with coins or bank cards (Maestro). You can buy tickets in the usual box office, but in this case you will have to pay a little more for a ticket.
If your plans include frequent usetrains, meaning you have to get a travel pass Eurail Pass - it gives the right to make any number of trips for a long time within the Netherlands, Belgium and Luxembourg.
- Water connection: all interested persons will be able to go on a boat trip, which implies stopping at many museums in Amsterdam.
Pleasure boats ply from the company Canalbusbetween the Central Station and the Museum Rijksmuseum, and from the company Museumboot Rederij Lovers - make 7 stops at 20 museums (buying a ticket, valid 1 day, you will receive a 50% discount on museum visits).
With the city of Amsterdam attractions can be ordered by phone or on the seafront a water taxi, which holds up to 8 passengers.
Taxi
Taxi services in the country is quite expensive, so profitable to move them to overcome the short distances around the city, or get them from the airport or train station to the city.
In some cities, you will be able to ride a bicycle taxi drivers which can tell you about the city surcharge.
Car rent
Rent a car, you can visit the rural areas, to which it is impossible to reach by train.
Travellers driving should know thatRoads have advantages cyclists (at hit in an accident with a cyclist, you will automatically be found guilty), but on many streets, central band reserved for trams, buses and taxis.
Keep in mind that for the use of radar detectors, it not only confiscate, but also you will write a fine of 250 euros (police use special identifiers radar detectors).
Important: if next to the sidewalk, you will see a solid yellow line, then this place is forbidden to stop, and the broken yellow line will indicate the parking ban.
Travel from the Netherlands - a great idea, because you can move around the country on trains, planes, buses, bicycles ...
Photo