Traditional cuisine of New Zealand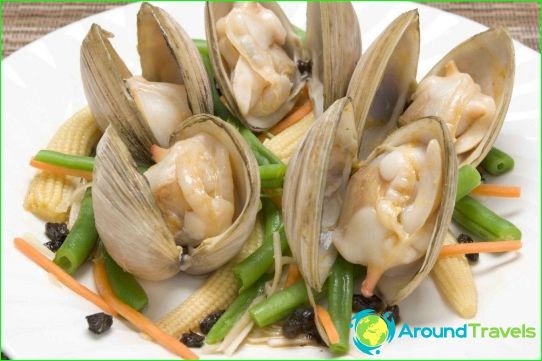 Power New Zealand characterized in thatthe cost varies depending on the area in which there are numerous places (on the South Island of the cost of food will cost you less than the North).
Food in New Zealand
In New Zealand cuisine significant influenceWe had the British culinary tradition, so the country is very popular roast beef and steaks. The New Zealanders diet contains seafood (lobster, shrimp, oysters, mussels), meat, fish, dairy products and vegetables.
In New Zealand, should taste fried sweet potatowith sour cream (roastkumara); pies stuffed with potatoes, pork, beef, lamb, sweet potato or cheese; Titi dish meat poultry (muttonbird); Salmon cakes with stuffing or meat mussels flavored with herbs (kuku).
A sweet tooth should eat cake with whipped cream and proteins, decorated with fruit (pavlova), a variety of jams, dry biscuits.
In New Zealand you can eat:
in ethnic restaurants offering visitors a feast of traditional food;
in cafes and restaurants where you can enjoy popular dishes of various cuisines (Chinese, Indian, Thai, Italian restaurants);
in canteens, bistros and other establishments of fast food (Pizza Hut, McDonalds, KFC, Burger King, Subway, Wendy's);
in the Dinner Theatre (in these dinner-theater at the same time you will be able to engage in watching theater, and adoption of food).
Drinks in New Zealand
New Zealanders are a popular drink tea, coffee, beer, wine. Beer lovers should try Canterbury Draught, Lion Red, Speight, OB Natural, DB Draught.
It is worth noting that in restaurants that do not have a license to sell alcohol, you can come with their liquor (look for the label: BYO - BringYourOwn), while paying a nominal fee.
Gastronomic tour in New Zealand
If you - not only gourmet, but a fanexotic food, then you should go to New Zealand to the Festival "Wild Food" - here you will be offered to taste a dish of worms, resembling sushi, meat grasshopper, baked in a sweet sauce, and shark meat, fried in deep fat. In addition, you can eat fried patties of Snetkov (small fish), boneless, breaded in flour and eggs, snails in garlic sauce, fried clams and baked fish, cucumber. As for drinks, you will be offered a beer of local producers and floral wine.
In addition to gastronomic experiments, this festival offers concerts, dance performances, comedy shows and pantomimes, and in the evening - disco.
In New Zealand, you can sunbathe on the beaches,explore the natural sights, go fishing or walk on a yacht, diving, windsurfing, jumping, and also enjoy New Zealand cuisine.
Photos national dishes in New Zealand