Islands of New Zealand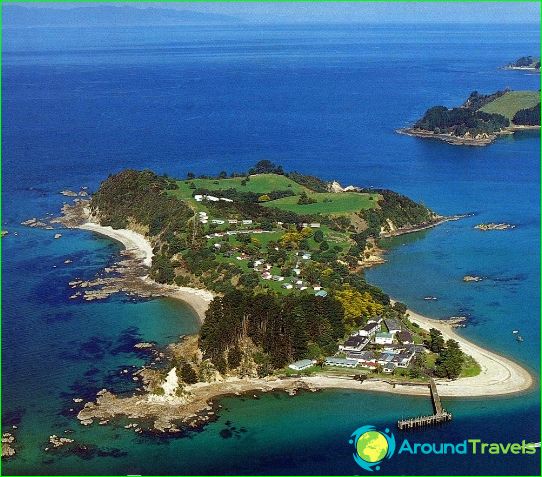 New Zealand occupies two large islands in thePacific, which represent the South and the North. In addition to these state owns about 700 small islands. The country is very far from Europe, which leads to its isolation from the rest of the world. Islands of New Zealand are combined with Australia. They shared the Tasman Sea. The nearest countries are also considered as Fiji, Tonga and New Caledonia.
Brief description of New Zealand
The area of ​​the country more than 268,670 square meters. km (including all the islands included). The capital is the city of Wellington. New Zealand's population - this is 4,414,400 people. Maori are the official languages ​​and English.
In past centuries, the land was populated countrytribes Moriori and Maori (Polynesian peoples). The Europeans appeared on the islands of New Zealand in 1642 These were the members of the expedition of Abel Tasman. However, development of territories began only a century later. The beginning of this process is considered to be the arrival of James Cook Islands. Later it was named after the strait between the islands of the South and North.
The largest island of New Zealand: Kermadec, Auckland, Stewart, Antipodes, Campbell, Bounty Islands and others. State coastline stretches 15 134 km. The largest island of the country considered South, an area which is equal to 151,215 km. Through it pass the mountains of the Southern Alps to the maximum point of 3754 m - Mount Cook. The western region of New Zealand are the fjords, glaciers and bays. Eastern parts are covered with plains, which are agricultural lands.
South Island locals refer to the mainlandbecause of its wide area. If we look at the small islands, some of which the largest is Stewart, and the most populous - Veyhek. The islands are located outside the main archipelago, also referred to as New Zealand. The permanent population is only on the Chatham Islands.
Weather
On the two main islands of the country's climateheterogeneous. North Island is under the influence of a mild subtropical climate. South Island is located in the temperate zone, so there is a lot cooler. The plains of the island protected from the westerly winds of the Southern Alps mountain range. A small New Zealand island different weather conditions of the tropics, as they are exposed to the warm East Australian Current. In summer, rainfall is scarce. The average annual temperature in the North Island - about 16, and in the South just above 10 degrees. Winter in the Southern Hemisphere account for the months of July, June and August. The coldest month is July in the country. In mountainous areas at this time is very cold. The warmer months are February and January.
Photo