New Zealand Resorts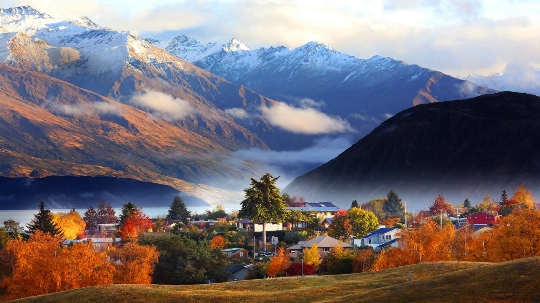 Islands in the Pacific Ocean, whichaverage European rightly considers edge of the world, their citizens, on the other hand, recognize the center of the universe. To understand why the local souvenirs is this country is in the center of the image on their geographic map can be only one way - buy a tour to the resorts of New Zealand. Today it is much easier to do than it might seem. Suffice it to a great desire, a couple of weeks of free time and the nth sum of money, of course.
"For" or "Against"?
Option holiday in New Zealand,perhaps record-holder for the number of arguments "against". It's no joke! Only the flight can take up to six days, depending on connections. But they can be carried out with the use, taking up useful shopping in so beloved by travelers around the world duty free shops or reading a guide to the country of hobbits and dwarves.
The arguments in favor of such a non-standardholiday friendly chorus perform magnificent nature of the islands, fascinating excursions through the local towns and villages and the opportunity to try all kinds of outdoor activities in the New Zealand resorts.
Always in the TOP
For fans of winter sports andsnowboarding distant islands - the opportunity to fly on a slope with the wind at precisely the moment when the whole civilized world, the Northern Hemisphere is dried away from the summer heat. The slopes of the local resorts can give odds on the famous European degree of readiness and complexity, no wonder the coolest snowboarders the world train here willingly and with pleasure:
The most famous ski resort in New ZealandMount Hutt opens the season in the Southern Hemisphere and is famous for sustainable and high-quality snow. Its slopes are suitable and beginners and pros, a ski area starts at the two-kilometer altitude.
Turoa respected snowboarders especially because the local snowpark and fan-park equipped with a high professional level.
On the shores of Wanaka
Lake Wanaka - known resort in New Zealand,who prefer an active and sports travelers. Opportunities for recreation on its shores are truly endless: climbing and hiking in the mountains, water skiing and racing yachts on the surface of the lake, horseback outings and bungee jumping. Only in the entertainment park "Pazling-World" you can spend more than one day, passing numerous quests and mazes and even dining in cafes puzzling. By the way, bungee jumping, or jumping from various buildings upside down - popular entertainment locals, which they successfully instill love and their guests.
National parks of New Zealand
Photo