South New Zealand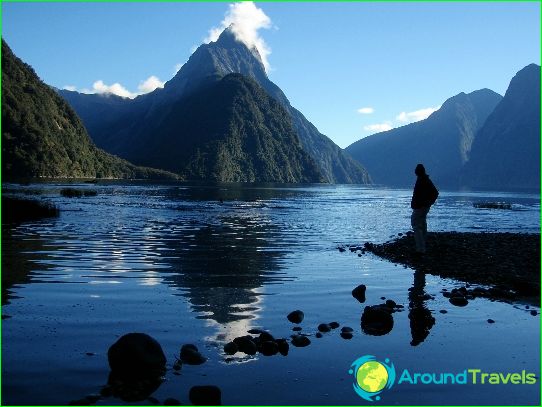 If you decide to go on holiday to the south of New Zealand, you will be able to:
- Engage in active activities (kayaking, rafting, hiking, helicopter tours, horseback-speed boats);
- To go to ecological cruise.
Cities and resorts of the South Island of New Zealand
Queenstown
To enjoy the delightful scenery of Queenstown, it is advisable to go to Lake Wakatipu, or sightseeing by helicopter, SUV or an old steamer.
If you - a fan of winter sports, here you will be able to ride on mountain trails, designed for both beginners and professional skiers.
And extreme tourists can makebungee jump bungee Kawarau Bridge on, come down from the mountain at a decent speed (you will be placed in a transparent ball), rock climbing or rafting (there are different degrees of difficulty), a ride on a super high-speed boat.
Christchurch
Christchurch - a glacial lake, evergreen gardens, amazing scenery.
Here you can see the Cathedral and the Cathedral of St.Communion, to look into the Canterbury Museum, Automotive Museum, Historical and Antarctic Museum, stroll through the Botanical Gardens and the Hegle Park. You can visit the aquarium and the zoo on Beach Road, if desired.
For active travelers in Christchurch conditions for surfing, sailing and fishing trips.
Those who wish to take a ride on a snowboard or skis can be advised to rest at the ski resort Hutt (located 120 km from Christchurch).
Fans will be able to see the event tourismAirshow Uigrem Classics, arrived here in late March, to visit the festival of colors - in February, Festival of street musicians - in January, the Festival of Arts - in July, Canterbury show (you can make a bet on a horse race, visit fashion shows, take part in the fairs) - in November.
Dunedin
This resort pleases guests with its green hills, clean sea air, picturesque waterfalls, architectural monuments of the Victorian era, opportunities for different kinds of recreation.
While vacationing in Dunedin, you should see the castle of Larnaca, Knox Church, the University, the Cathedral of St. Joseph, visit the National History Museum and Otago, visit the chocolate factory.
A surf, visit the beach Saint-Clair Beach.
If you are not averse to eat fresh local food, you should visit the farmer's market, which attracts more than 60 producers (it works on Saturdays).
South of New Zealand - a fjord, excellent shopping, marine and bird reserves, fine wines, which you can taste at the local wineries.
Photos of South New Zealand