Traditional cuisine of North Korea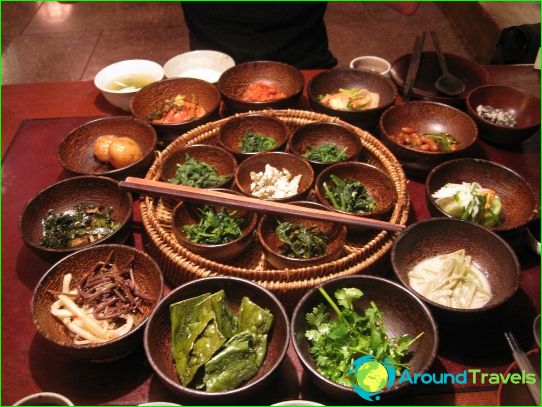 Power in North Korea is characterized by the fact thatdistinctive local cuisine, nourishing, unique and slightly different from province to province (it influenced the culinary tradition, the birth of the Korean Peninsula).
Food in North Korea
Diet Koreans consists of seafood (crab, octopus, cuttlefish, squid, oysters, shrimp), fish (mackerel, croaker, herring, fish-sword), meat, soups, vegetables, rice, beans, soy.
Locals use soybeans for cookingtofu and soy milk - for preparation of various sauces, fermented seasonings, thickeners for sauces and porridges. As for whole beans, they are often served as a side dish. To make the sharpness local dishes Koreans use Chinese pepper, red hot pepper, lemongrass, ginger, garlic, various vinegars, onions, green shallots and leeks.
In North Korea should enjoy chicken feet( "Dakbal"); Raw small crab, served with various sauces ( "gedzhan"); soup with seafood, vegetables, herbs and hot pepper paste ( "hemultan"); milk porridge ( "tarakdzhuk"); acorn jelly with vegetables and soy sauce ( "dotorimuk"); fermented slope ( "hongeo"); cooked sausage from pork or bovine intestine ( "sunde"); of dog meat stew ( "bosintan"); chops rice cakes ( "chhaltok"); sauerkraut or pickled Korean cabbage ( "kimchi"); Dish, which is based on seafood, meat, fish and vegetables, salted and pickled in vinegar or soy sauce ( "ha"); soup with fresh clams with soy and egg yolk ( "sundubu-chige"); Korean barbecue ( "pulgogi").
A sweet tooth can enjoy fruit, candied, cooked in syrup or added in various fruit salads, cookies, shaped like a walnut ( "hodukvachzha").
You can eat in North Korea:
in cafes and restaurants where you can sample a selection of Korean and European cuisine;
in schools with fast food.
In local establishments Fig serves guests as a separate dish, in a separate piala (it is cooked with liquid, viscous or crumbly, and other products are added to it).
Drinks in North Korea
The most popular drinks are Koreansnon-carbonated mineral water, tea, barley or rice water, herbal infusions ( "Cha"), fruit punch from persimmon, pepper, cinnamon, ginger ( "sudzheongva"), Ginseng vodka ( "Insam th"), rice wine ( "makkori "), beer, fruit liqueurs.
Gastronomic tour in North Korea
Arriving in North Korea, you can goin the walking tour, during which you will be living in tents and roam the country with a backpack. And if you want you can get acquainted with the national Korean cuisine, visiting the traditional restaurants.
Holidays in North Korea can be combined with tasting of national dishes and local tours.
Photos of North Korea national dishes