Pyongyang Metro: diagram, photo, description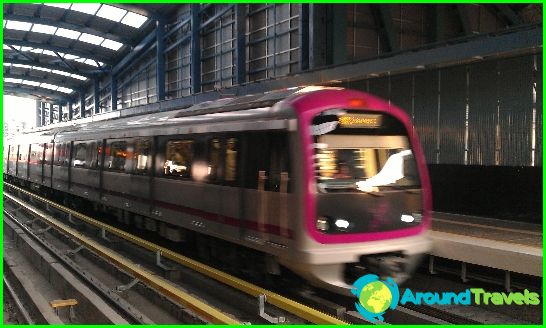 Pyongyang Metro map
Metropolitan Pyongyang - the first subway on the Korean peninsula. Its opening took place in September 1973, but active development and construction of the subway has since happened.
Today, working in the underground Pyongyang only twolines, each of which is marked on the schemes of public transport by its color. The length of both branches is a little over 20 kilometers, and the existing stations in the subway Pyongyang's only sixteen. Another train stop was closed due to construction near the mausoleum of Kim Il Sung.
Start of construction work on the subway in PyongyangIt accounts for 1968. The city is divided Taedong River into two parts, which, according to the idea of ​​designers and was to link the metro. During the laying of a tunnel under the riverbed major accident claimed the lives of over a hundred people, resulting in the entire network Pyongyang subway was carried out on only one side of the river.
"Red" subway line called PyongyangChollima and crosses the city from north to south, turning it into a south-westerly direction. The second branch is marked in the diagrams in green and called Heksin. It starts in the west of Pyongyang, rises in the north-east direction and, after crossing a "red" route goes east.
Pyongyang Metro is one of the mostdeep systems of public transport in the world. His station and the path laid down in the 20 to 100 meters depth, which makes it suitable for use as a shelter during the war.
The names of subway stations in Pyongyang, as a rule,not tied to a geographical or historical concepts and places. They are connected only with revolutionary themes, and therefore quite difficult to navigate the subway in Pyongyang. Registration stations different luxury and pomp, in the interior used in marble, granite, huge mosaics and non-standard lighting. Mosaic panels are even in tunnels - they adorn the walls throughout the tracks.
Pyongyang Metro Pictures
Pyongyang Metro map