Airport Busan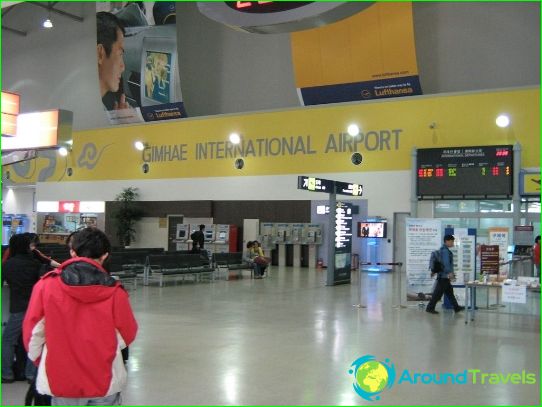 Gimhae Airport - serves Korean cityBusan. This airport began its history in the late 50s of the last century. At that time it was used as a military airfield for the Air Force in Korea. In 1976 the airport was named the new, now valid name.
Busan Airport is located in the western partthe same city, is served by domestic and international flights. The airfield has two runways with a length of 2745 and 3200 meters. It is said that the shorter strip is only used Air Force Korea, but in recent times it comes to transfer it to civil aviation. This is due to the fact that the annual increase of passenger traffic, more than 9.6 million passengers were served only in 2013.
The greatest number of flights servingairline Air Busan, as the airport is working with airlines such as Air China, Vladivostok Air, Lufthansa and others. Every year served more than 77,000 takeoffs and landings.
services
Busan Airport is ready to provide its guestsmost comfortable stay in the territory of their terminals. Tourists are always welcome to visit cafes and restaurants to enjoy local and international cuisine.
Also at the terminals there are various shops - supermarket, shop Duty-free, bookstore, gift shop, etc.
A lot of attention is paid to the disabled, the airport regularly updates the equipment for their service.
Besides on the territory of the terminal operates a medical center and several pharmacies.
For those who like to travel independently in the airport operating companies that provide cars for rent.
Like most airports, you can use banking services or withdraw cash from ATMs.
For entertainment, guests are presented with slot machines.
Getting there
To get to the city by local buses can №31010-15, 3077-8, 30075 and 20130. Also, the airport has regular limousine bus - route №15.
The nearest towns can be reached by inter-city buses, which are also sent to the airport.
Photos Airport in Busan