Seoul Airport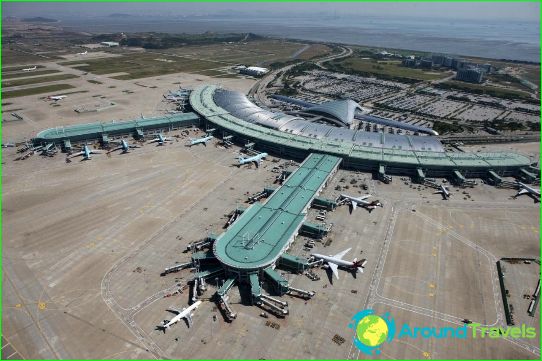 Incheon Airport, located about 70 kmfrom the city of Seoul, it is the largest international airport in South Korea. After opening in 2001, he immediately took over most of the international air transportation Gimpo Airport.
honors
In its short history the airport in Seoul managed toto win a number of awards. Every year, since 2005, recognized as the best airport in the world by the International Union airports. Incheon Airport also received the highest rating every year according to the research company SkyTrax. According to the same company, in 2009, the airport for the first time became the leader in the ranking, beating all of its global competitors.
services
Airport in Seoul is very attentive toits passengers and offers a number of important and useful services. Among the free services it is worth noting a special room for rest, shower and access to the Internet.
For paid services include - cafes and restaurants serving different cuisines, hotel by the hour, shops, etc.
A significant advantage is that all the information at the airport duplicated in English - it's much easier for passengers to obtain the necessary information.
Terminal
Seoul Airport has two terminals - the main andTerminal A. The main terminal serves flights of only two airlines - Korean Air and Asiana Airlines. The terminal A are serviced by all foreign companies.
The terminals are connected by an underground communication with automatic transit passengers.
It is worth noting that all the registration procedures on the flight of foreign airline passengers must go to the main terminal, and then get to the terminal A.
Transport
It can be reached in several ways from the airport to the city:
Aeroexpress - the most fun wayaccess to the city center. Aeroexpress station is connected to the airport and Gimpo station "Soul gk", which is located right in the city center. Thus, a total of $ 4, you can quickly get to the center of South Korea's capital. Travel time is 45 minutes.
Bus. From the airport to the city buses of several companies. It is best to plan on what bus to go to Seoul to learn schedules and routes. In addition, the airport sent a special shuttle bus, owned by the hotel, which will deliver passengers to a free hotel.
Taxi - the most expensive way to get tocities. It is best to take a taxi, which will deliver passengers to the city for a nominal fee. They can be found near bus stops.
Photos Seoul airport