Entertainment in Seoul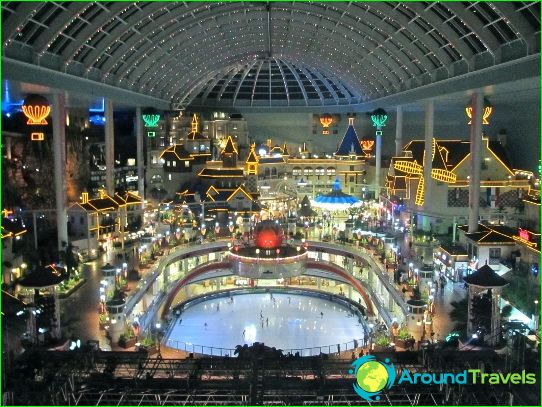 Entertainment in Seoul - is an opportunity to risethe observation deck of a skyscraper "63", visit the "special districts", with the aim - to taste national dishes, go trekking or mountain biking, relax in the local spa-complexes.
Amusement parks in Seoul
"Lotte World": In this theme park, you can spend time on the ice rink, the Ethnographic Museum, a ride on the rides (it is worth to look into the zone "Adventure" and "Magic Island"), walk along the walking paths at the lake, enjoy a variety of shows and parades. Guests water complex is a sauna "cave" and to roll down the hill, "Cobra."
"Everland": here guests are offered to visit any of the five subject areas (for example, "European adventure" and "Magic Land"), spend time at the zoo (to move through its territory can be specially paved roads on small buses) and a water park.
What kind of entertainment in Seoul?
You are attracted to exciting entertainment? Visit the village folk (the trip from Seoul's city center takes about 50 minutes), which features homes that are typical for different Korean provinces. There you will be offered to enjoy street performances, folk dances, circus numbers, attend the event to launch the kites and traditional sports.
If you want to make funny photos on the memory and see an interesting collection of three-dimensional illusions, do not forget to look in "Trick Eye Museum".
If you decide to have some fun in discos, payattention to the night clubs "Ellui" (the club is famous for parties, special guests who are the best Korean DJs), "Octagon" (the club has a VIP-room, dance floor, 3 bars, an open kitchen, and even a swimming pool), "Mass" ( specialization club - electronic music: here act as invited world and DJs resident).
Entertainment for children in Seoul
"Children's Grand Park": here you can not just ride on the carousel of all kinds, but also to take part in the celebrations and festivals held here throughout the year.
Seoul Animation Center and The Cartoon Museum: Younger guests will be offered here to visit the 4D-cinema, have fun in the children's playroom (here you can meet Shrek, Batman, Superman) and the rides, as well as to visit the exhibition, where they will see the model and drawings of famous cartoon characters.
Aquarium "Sea World": children will be able to see 400 species of fish and other marine life. In addition, guests of the aquarium regularly engage in competitive programs and offer a look at the show swimmers interpreters or show showing feeding penguins.
In Seoul, be sure to admire the modernarchitecture, visit the magnificent palaces, admire the costume show, dine at the revolving restaurant, go to the bridge "Rainbow Fountain" (you will find a light and music show fountains).
Photo