Seoul Metro: map, description, photos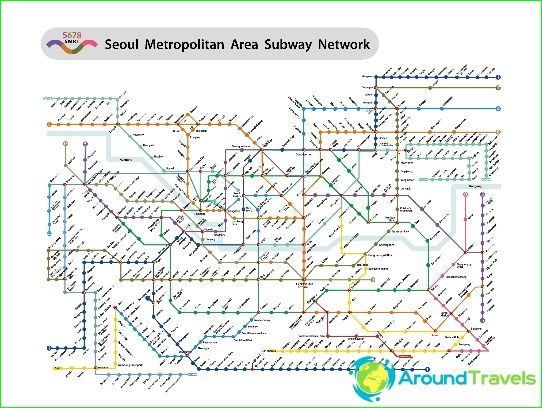 Driving Seoul Metro
Since Seoul is the second largest capitalin the world with a population of over 25.6 million people, Seoul Metro -. the world's largest underground with a total length of 975.4 km and passenger traffic of 2.5 billion passengers a year. By the number of subway stations (607 stations) Seoul is second only to New York.
Seoul Metro is one of the most extensivesubway systems in the world by total length of the route. It consists of 17 lines that serve Seoul and suburbs. Seoul Subway integrated rapid transit system in the capital of Korea, which also includes light rail and light rail line (U line).
Seoul Metro was recognized as the best in the worldJalopnik version and got the nickname "super highway" from the BBC. Metro is remarkable for its purity and simplicity of use. Seoul subway the first in the world provided their passengers with contactless smart card Upass and cutting-edge technologies, such as 4G LTE, WiFi, DMB, and the WiBro, available at all stations and subway cars. Most subway trains have digital displays, they are all equipped with air conditioning and climate-controlled. In winter, the carriages automatically maintain a comfortable temperature.
All stations have protective screens on platforms andwith large digital display, as well as online help system installed to help passengers for a quick orientation in the city. All signs in the subway made in Korean and English languages, the ad also made in two languages, and to the central station in four - in addition to Japanese and Chinese.

Tickets to Seoul Metro
Older people and people with disabilities are in the Seoul metrothe right to free travel, which must either obtain a free ticket or pass to use for the station side gate and not the turnstiles.
Tickets for the underground can be bought from vending machines at the stations, where you can also recharge travel cards. machines Menu uses Korean, English, Japanese and Chinese.
Many metro stations are located chamberstorage seultsami are used for different services. In addition, the companies are trading stations, booths and showrooms. In many places there are adapters for charging electronic devices.
Photos of Seoul Metro
Driving Seoul Metro