Shops and markets in Seoul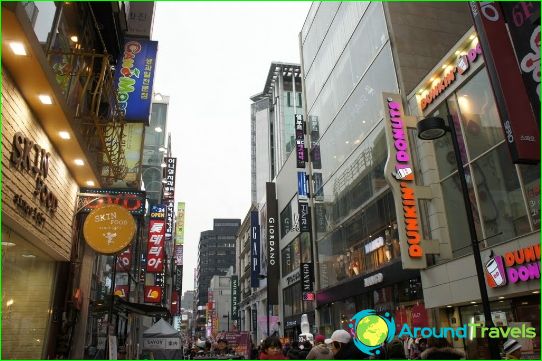 In Seoul, as well as in other capital citiesSoutheast Asia, the darkness of modern shops, traditional shops with the works of Asian artists, crowded markets. Therefore promises a lot of fun shopping and a thousand discoveries.
Popular outlets
Myeongdong - it's not even the area and commercial cityin Seoul. Its name comes to mind any Koreans, when he decides to buy himself this or that little thing. Here shops of different price categories, restaurants with European and Korean cuisine, department «Shinsegae», shopping center «Migliore», products of different directions and price categories.
Gangnam offers its boutiques for the mostdiscerning buyers. Here the whole avenues are given the power of fashion. But the most-most expensive brands are in Cheongdam-dong. «Gucci», «Prada», «Armani», «Louis Vuitton», «Cartier», «Dolce & Gabbana» Seoul can only be found here. Rodeo is not more inclined to the classics, and to the youth fashion, but also brands her not differ cheapness.
European clothing at discounted prices, you can try to find in the outlet shopping. In Seoul, there are, for example, a large stock center «Mario Outlet», which occupies three buildings already.
Insadong - a shopping street or markettraditional Korean souvenirs and antiques. At the beginning and end of the street there are small tourist offices where the staff speaks English and helps to navigate among the Eastern splendor.
Ithevon - tourist area, wheremany visitors and, consequently, it stores targeted at foreigners. There will be no problems with communication - sellers are fluent in English, signs in restaurants and boutiques also duplicated in English.
In the area Dongdumen especially with many shopslinens, pots, pans, and other household utensils. Here «Dongdaemun Shoes Market». The name speaks for itself - the choice of clothing for the legs is very large.
From Seoul is brought and cars. Near «Seoul Art Center» stretches quarter salons, offering to buy another RV.
On the electronics market can be metTaiwanese, Japanese and, of course, the Korean technology. About Market Yongsan say it's easy for English-speaking customers. He often arranges the sale, about which informs on its website. Discounts can be very significant.
Namdaemun Market is not far from Myeongdong. It is the largest and the oldest clothing market in Korea. on pleasing its prices. The lion's share of trading shops that manufactured in their own workshops or factories.
Photos Seoul stores