Seoul Street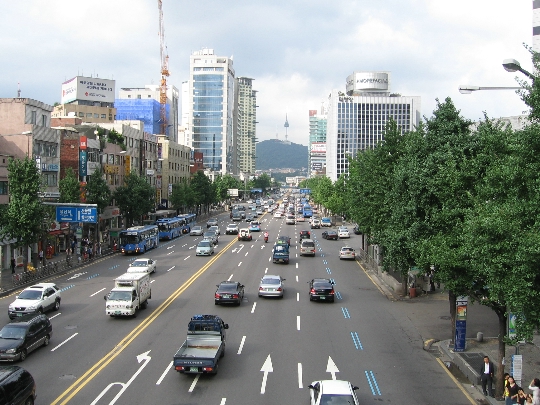 The capital is Seoul Korea - the largest city inthe central part of the peninsula of Korea. Its area is about 605,000 square meters. km. In the capital, allocate 522 districts and 25 districts. The central streets of Seoul known architectural monuments. city ​​feature is that it have no street names.
Insadong Street
Busy street in the heart of the Korean capital - aInsadong. It is located near Gyeongbokgung Palace. Street famous souvenir shops and restaurants of the national cuisine. There are shops with antiques, works of art, machetes, and others. Insandon is a place that was chosen bohemians. Street is a wide road for pedestrians, from which leaves a lot of side streets with its galleries, tea houses and restaurants. Of particular importance are the galleries that represent masterpieces of traditional Korean art.
It adjoins the street Insadong Jongno or Bell Street. It is popular with young people. On it are fashionable entertainment venues, shops and restaurants.
Myeongdong
The famous shopping district of Seoul - Myeongdong,included in the scheme of tourist routes. It was the first time in the city built a Catholic cathedral, which operates today. Due to the large number of restaurants and shops at Myeongdong maintained holiday atmosphere. Myeongdong famous prestigious shops and luxury boutiques. On the territory of this district are the four largest department store in Seoul. The area is the center of financial services. There are central offices of large companies. By this area borders on Mount Namsan Tower, National Theatre "Corea house", Namdaemun Market, and others.
Apgujeong Rodeo Street
This main thoroughfare Gangnam. She is a trendsetter in Seoul. Here are concentrated high-end beauty salons, luxury designer boutiques and ateliers. On the street are many excellent cafes, bars and restaurants that offer a variety of Chinese, Japanese and Korean cuisine. Apgujeong area is considered the most prestigious in the capital.
Seoul Parks
The list of attractions of the Korean capitalincludes beautiful parks. In Seoul, a large number of theme parks. The most popular Seoul Forest, within which secrete 5 areas: arts park, wetlands, ecological forest, a coastal park, Nature Center. In each of these areas have their own sections on topics.
The city also operates a water park "Caribbean Bay", filled with tropical plants and shipwrecks.
Photos of Seoul streets