Seoul Suburbs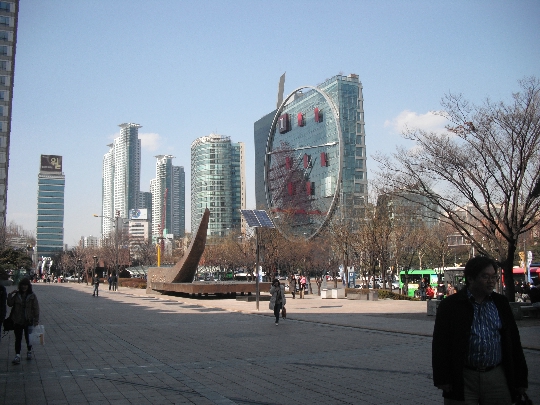 The capital of the Republic of Korea - is a hugemetropolis, which, if you count the suburbs of Seoul, is home to the most conservative estimates, nearly 30 million people. An important economic and financial center of Asia, Seoul attracts the attention of not only business people, but also tourists, because the view of the Korean capital, there is something.
One does not interfere
Despite its size and currentdevice, Seoul has many places for outdoor recreation. Even an ordinary output locals prefer to spend in the country, enjoying the beautiful scenery and fresh air.
Kvanaksan Natural Park, located in thea suburb of Seoul, boasts not only the beautiful lake and numerous fountains, but also the possibility of mountain climbing. Nearby peaks storm and old and young, because Kvanaksane laid some of the most diverse in complexity mountain hiking routes.
On the territory of the northern suburbs of SeoulIt is the mountains and Suraksan Puramsan. And although their height barely exceeds half a mile, at the weekend in the area Nowongu going quite willing to engage in mountain tourism. Fans get to enjoy photos from the filming of the surrounding landscapes and picnic lovers arrange gatherings in the valley with views of the surrounding peaks.
Shopping - nice doping
The countries of Southeast Asia have long proveditself as a territory particularly favorable for shopping. The region has produced a lot of goods of famous brands, and are sold at the same time at a very nice price. In this sense, the suburbs of Seoul - the real "fishing spots" for fans to run through the shops abroad:
At Rodeo street in the suburbs of Seoul Guro District tosouth-west of the center of the metropolis built several modern shopping malls where you can buy a variety of footwear, apparel and accessories for both adults and children. Landmark - metro station "Kasan didzhithol Tandja." Prices in the wholesale trade pavilions, because there are traders buy goods from other countries. In retail sale all with equal panache.
In the suburbs of Seoul Gangnam attention of visitorsalways attracts shopping mall COEX Convention & Exhibition Center, where you can buy thousands of products of different brands from clothes to electronics. The complex opened many cafes with Korean cuisine, theater work and children's rooms. Pride COEX Convention & Exhibition Center - an underground aquarium, where visitors are shown dozens of representatives of the local underwater flora and fauna.
Photo