Tours in Seoul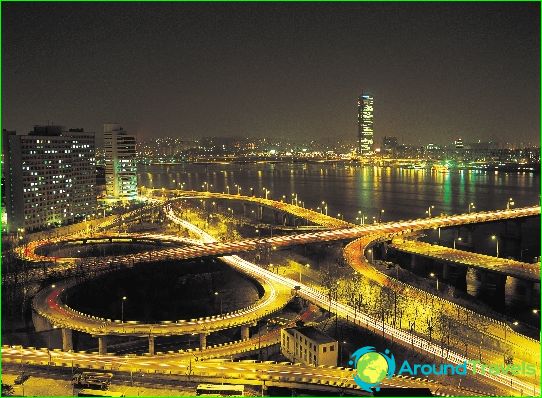 The capital of the Republic of Korea appeared on the mapthe end of the XIV century. Today it is home to more than 10 million people, and things to do in Seoul every year, and gaining popularity among Russian travelers. The reason - the desire to taste the oriental exotic and amazing nature of Korea, and a high level of technical achievements of the country, which is so little known in the west, and in the eastern hemisphere.
History and geography
Until the XIV century on this place was located the ancientVireson city, which was a fortress on the banks of the Han River. Since then preserved fortress Namdaemun gate, carefully restored after the recent fire. Tours in Seoul allow you to see the amazing scenery around the Korean capital. The city is surrounded by mountains and majestic silhouettes are the hallmark of modern and Seoul.
Briefly about the importance
International flights to Seoul takes a newIncheon Airport, which connects with the city high-speed road. On the central railway station of the Korean capital to come and train from the airport.
To move around the city as part of the tour in Seoulthe easiest way on the subway. Seoul Metro - it is nine lines interconnecting virtually all areas of the city. Convenient for travelers is the method of numbering all the subway stations, and therefore, calling number, it is easier to make an appointment, for example.
The climate in the capital of the Republic of Korea consideredmonsoon. This leads to a pronounced rainy season starting in May. It continues until September, and during these months the amount of rainfall in the city as much as possible.
When planning trips to Seoul in the summer, will have to beready and enough hot weather. The thermometer reaches 30, which, combined with high humidity can adversely affect the traveler's state of health. The lack of mountains in the north allows to get cold winds in winter, and because thermometers are often fixed temperature to -15.
A popular place of entertainment and local residents, and members of tours in Seoul - Park Lotte World, located in Sonphagu area.
For fans of the summer outdoor recreation in SeoulYou can recommend Hangang Park, which stretches along the banks of the river for several kilometers. Here you can ride on a river boat, taste the best Korean food in outdoor cafes, rent a bike or listen to a concert of folk music in the open air.
Photo