Water parks in Seoul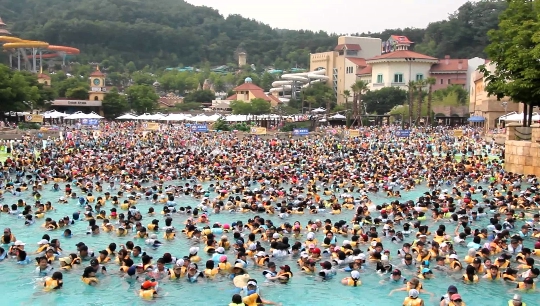 Do not know where to escape from the sultry weather, and at the same time have fun? Pay attention to the water parks located in the vicinity of Seoul.
Water parks in Seoul
Waterpark "Sea La La" a cave (entranceit is protected by the jets of water under pressure), saunas in the Korean-style (there are low-temperature and high-temperature rooms - there are used natural materials in the form of yellow clay, oak wood, salt and juniper), "lazy river", mushroom fountain, pool with whirlpool, slides built in the style of the Greek island of Santorini, a children's area, a food court (European, Chinese, Korean). Entrance fee: children under 13 years - 15,000 won / weekdays and 20,000 won / weekends and holidays, and adults - 20,000 won / weekdays and 25,000 won / output.
Waterpark "Caribbean Bay" is equipped with a hotsprings with baths (jade, quartz, bath with jasmine water) and saunas, a swimming pool with a recreated over and artificial sea waves, slides' Water Bobsleigh "(descent from 26 meters high) and" Water Loop "(descent at a speed of 90 km / h with a 360-degree hill), picnic areas, restaurants and cafes. Depending on the season, an adult ticket costs in 30000-65000 visitors out, and children (under 12 years) - in 23000-50000 out. And if you want you can visit the water park complex Lotte World - he has an adult and children's pool, a turbulent river, waterslide "Cobra" sauna "cave," a cafe.
Water Activities in Seoul
Tourists who want to stay in a hotel with a swimming pool, can look at the "Millennium Seoul Hilton", "Seoul Riviera Hotel", "Somerset Palace Seoul" and others.
Are you interested in a beach vacation? You can relax on the beach in Incheon - Eurwangni: here you can walk, watch the sunset, tasting seafood in the restaurants located nearby, spend time on sports grounds, riding a rented boat (rentals available)
If desired, you can visit the aquarium "COEXAquarium "- here visitors will get a chance to see the exhibition, divided into 6 sections (" Amazon Forest "," Sea Predators "," The inhabitants of the seas of the world "and others). And here at a certain time the show is held floating sardines and fish feeding. As for the cost of tickets, the adults they cost 15500 won and for children from 5 years - 10,000 won.
Travelers are advised to go tocruise boat on the river Han (go and sit on the ship can be in 4 places - on quays Chamsil, Yanhva, Eyydo, Nanji) - while they such travel will be possible to admire the beautiful views (there are as scheduled flights, and flights during which held magic shows, live music and a light dinner on "buffet" system - they are carried out at a certain time, it is recommended to see the schedule before leaving in the way), as well as by appointment marked on the ship a birthday or wedding. It is worth noting that on the pier you can rent a motor boat, if desired, in the summer months.
Photo