Zoo in Seoul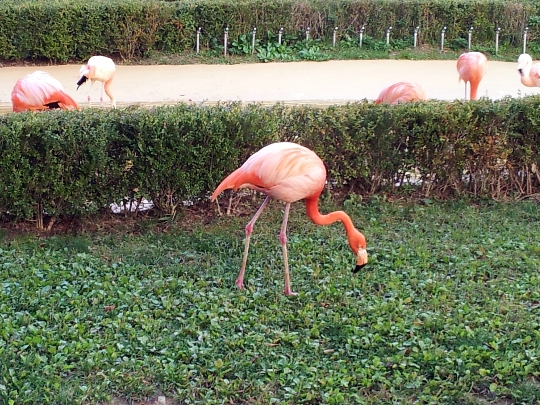 Many adventurous and interestingfacilities and places to relax waiting for a large park of the Korean capital. Besides Seoul Zoo located here garden flowers, a large amusement park rides and Seoul Land, a rose garden, the Museum of Modern Art, and dozens of hiking trails, forming a variety of tourist destinations for young and old travelers.
Seoul Grand Park Zoo
For the first time in this park animals appeared in 1984. It was then that were built cages in which are located the four-legged guests, become popular with the public almost a few days.
Today in Seoul zoo peacefully live side byside more than 3,000 animals representing 350 different species. Among the residents - the peacocks and flamingos, elephants and monkeys, giraffes and parrots. In the contact children's mini-zoo you can feed the goats, pet the rabbits and make friends with the horses.
Pride and Achievements
The most popular with the public residents of Seoul Zoo- Dolphins and seals. The show looks to their participation each year several hundred thousand people, and these artists - a real pride of the park administration. And even in its territory is one of the largest Asian botanical gardens, surrounded by mountain range Chongesan. In the botanical garden seultsy not only admire the exotic plants, but companies are going to restaurants with national cuisine. Against the background of the surrounding splendor taste Korean food will be especially pleased and foreign tourists.
How to get there?
Zoo Address - 102, Daegongwongwangjang-ro, Gwacheon-si, Gyeonggi, Seoul.
The easiest way to be in a zoo -use Seoul Metro services. By train 4 lines marked on the blue scheme, should reach the station "Seoul Grand Park," come to the surface via Exit 2 and transfer to the free shuttle buses to the upper entrance to the city park or walk along the avenue. From the gate to the zoo tram runs, where for a small fee visitors are delivered directly to the entrance to the zoo.
Helpful information
Hours of Seoul Zoo depend on the time of year:
From March to October, you can get acquainted with the lodgers with 09. to 19.00.
In winter, the park is open from 09.00 to 18.00.
Price per adult (from 19 to 64 years) - 3000won, children (from 6 to 12 years) - 1,000 won, teenagers from 13 to 18 years of age are benefits and tickets for them will cost 2,000 won. Kids up to 6 years can communicate with animals free.
Beneficial to buy tickets to visit the complex, not only in the zoo, but also in the garden of flowers, for example. About all kindly inform pricing information boards at the box office or website Seoul Grand Park.
Photos can be done without restrictions anywhere in the park.
Services and contacts
Official Site - www.grandpark.seoul.go.kr.
Phone 822 500 7335.
Photos of Seoul Zoo