South Korea Beaches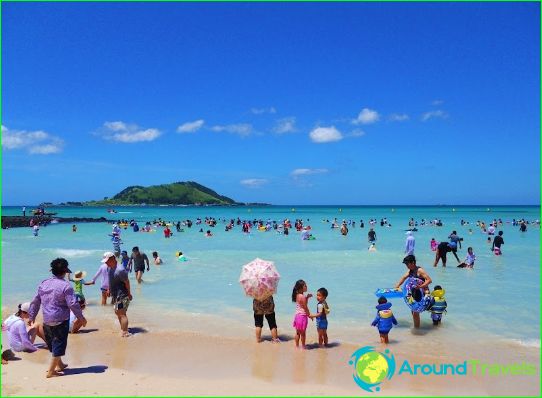 Monotonous beaches of the Black Sea coast, letand attract with their beauty, sooner or later get bored. A very popular destinations such as Turkey, Thailand, Egypt .... But what if all this is a pall or want special feelings? Perhaps you need a deep relaxation away from the busy hotels with developed infrastructure? And what about the almost complete unity with nature, pristine and pure?
All this will give you the beaches of South Korea. The Republic of Korea is not a popular resort destination, annually host hundreds of thousands of tourists. And therein lies its charm. Of course, due to the insufficient development of beach recreation industry, good beaches not too much, or rather, they can be counted on the fingers. So, the best sandy beaches of South Korea, which certainly worth a visit:
Jeju Island - the largest island in South Korea,combining the pleasant sea climate, beautiful nature, plantation of fruit and much more. On the island you will not find a single pebble beach, fine sand is everywhere. However, in the beaches there is a significant difference: for example, the eastern sandy beaches are much better and more convenient than a similar, but located in a different area of ​​the region. On the island of love reigns. Love everywhere. For lovers and honeymooners couples even have special attractions and Sculpture Park, reflecting "vulgar" poses in all its beauty.
A great place to relax your body and soulis the area of ​​Seorak. The diversity of the landscape, which is a mountainous terrain and forests, rivers and beaches by the sea, attract large numbers of tourists. Popular among visitors numerous mineral springs, which are used as therapeutic massage or a sauna bath. And, for example, a dip in the source Choksan which about 55 degrees temperature, you will help your body get rid of digestive diseases, disorders of the nerves and skin diseases. Not far from the source of this magic is one of the best beaches in the country - Naksan.
Another interesting place to visit - it isDechhon resort, located on the west coast of South Korea. And not only for its newfangled beach is famous for this resort, and sludge containing germanium, accepted an extremely effective tool used for skin care.
Photos beaches of South Korea