Subway Daegu circuit, photos, description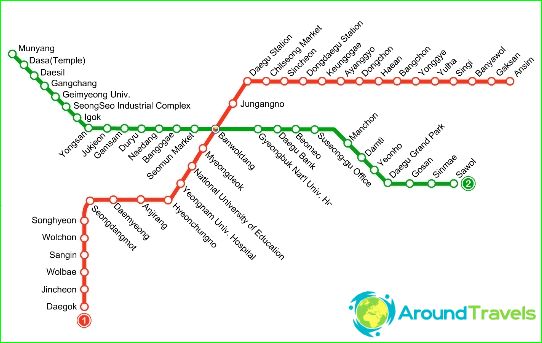 Metro map Daegu
South Korea Daegu Metropolitan city for the first timeIt took passengers in 1997. It is the third-largest metro in the country. The length of its lines is 58 kilometers. At present, two full route of the subway, which is open 59 stations operate in Daegu subway. Passenger traffic for the day is not less than 350 thousand people. Annually Daegu subway services are used by 125 million users. The first line of Daegu subway was put into operation in November 1997. Its length is 25 kilometers, and for entry and exit of passengers is open 30 stations. This branch is marked on metro Daegu red and connects the south-western areas of the city with the eastern. Train overcomes all "red" route in 50 minutes.
Around the middle of the "red" threads can bemake the transition to the second line of Daegu subway - "green". It stretches from west to east, and its length is 31 kilometers. Passengers can get on the train of the second route by 29 stations.
The project provides for underground developmentlaying another Daegu subway line, which will connect the northern and southern areas of the city. Daegu Metropolitan connects the city center with the international airport, sleeping areas and industrial zones. Some subway stations and tracks Daegu built under the ground, while others - ground. Schemes lines and station names are duplicated for the convenience of foreign passengers in English. The stations are equipped with lifts for the disabled, fences edge of the platform and other technical facilities for a comfortable and safe operation of subway Daegu. At some stations, shopping malls are open, where you can buy drinks and food, household stuff, clothing, newspapers and other products.
Daegu Subway Photos
Metro map Daegu