Prices in South Korea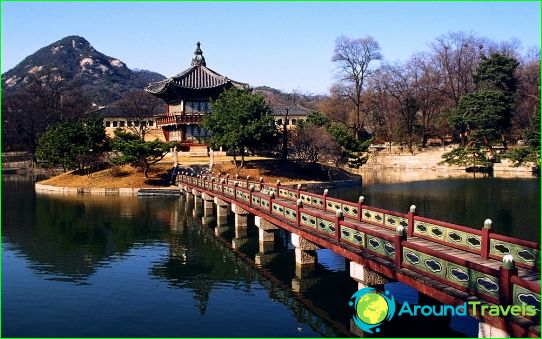 Compared with Asian countries, prices in South Korea are quite high: they are higher than in China, but lower than in Japan.
Shopping and souvenirs
In Seoul and other major cities should goon the duty-free shops, markets, specialist shopping areas, department stores and arcades. Ideal location for shopping in Seoul - the streets of Insa-dong and Itaewon, the markets of Dongdaemun and Namdaemun, Gangnam.
It can be brought from South Korea:
Personalized printing (todzhan), Koreanfan (puchhe), traditional lanterns, traditional handicraft products (lacquer chairs, tables, chests, wooden masks), Korean cosmetics, antiques (ceramics and pottery, paintings), clothing, fur and leather;
ginseng, green tea, national alcoholic drinks (makgeolli, soju, munbechzha).
In South Korea, you can buy traditional tea (Cha) - from $ 9, a traditional Korean costume - from $ 50, Korean cosmetics - from $ 5 gold jewelry - from 80 $.
Excursions and Entertainment
In the survey by Seoul tour you walk throughthe royal palace of Gyeongbokgung, visit the Folk Museum (here you will learn about the life, customs and traditions of the Koreans), as well as admire the panoramic view of Seoul from the 480-meter-high, up to the observation deck of the tower N-Tower. The average tour costs $ 60.
The whole family can have fun in the parkwater theme "Caribbean Bay", which is located near Seoul. Here you will have to wait for water slides for children and adults, swimming pools, sauna, Jacuzzi, a variety of attractions. The entrance ticket costs about $ 30.
And you can visit the Everland amusement park inEnin city. Here you can visit the various thematic areas - "European adventure", "Magic Land", "American adventure", "Zoo". The entrance ticket costs about $ 24.
Transport
In Seoul busses of different colors. For example, on a red bus you can ride to the suburbs, to the green - to travel within the Seoul area, and yellow - to drive through the city center. Pay for a bus ticket can be in cash ($ 1.1-1.8 without the possibility of free change with the route to the route) or a transport card ($ 1-1.8 + free transplant). When traveling on the subway in a special machine, you can buy a single transport card worth $ 1.1.
For smooth movement in any formtransport advisable to get a transport card T-money (it is possible to fill in the $ 1-9). And you can buy M-Pass - travel intended for foreign tourists: it gives the right of free movement on any public transport (up to 20 trips a day). The cost of card, valid for 1 day - $ 9.6, 3 days - $ 24, 5 days - $ 40.
When economical holiday in South Korea you will need at least $ 50-60 per day for 1 person (accommodation in a cheap hotel, cheap food in the cafe, travel by public transport).
Photo