Resorts in South Korea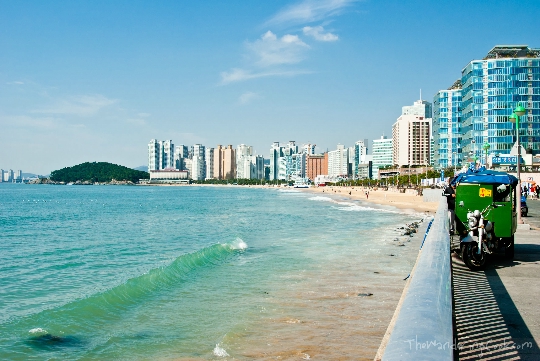 Exotic and unusual things Europeans - fromlandscapes to the menu in restaurants - lacking in this country. Going to the resorts in South Korea or in a guided tour to the Land of Morning Calm, travelers do not even know how many unusual and non-standard awaits them on the peninsula, washed Japan and the Yellow Sea.
"For" or "Against"?
Weighing the arguments in favor of the tour to South Korea,one can not forget about the gorgeous natural attractions and national parks where wild pristine harmony with meticulous care and concern of tireless gardeners. The clinics in the resorts of South Korea set of diseases treated with the help of mineral and thermal waters and secret techniques of ancient Eastern medicine successfully diluting them-art scientific achievements. Tasting of popular Korean dishes will satisfy the thirst for new knowledge at the gourmet, and sightseeing in the style of "This place remembers Buddha" - the pioneers.
The traditional "against" a trip to the Far Eastalways get many hours of flight and tickets are not cheap. Luckily for the residents of the Russian east, these arguments do not have this sense for the Europeans, but because it resorts to South Korea - a straight road.
Island in the Korea Strait
The largest island of Morning CalmIt called Jeju and here are the best beach resorts in South Korea. Besides swimming in the clear waters and sunbathing in the temperate zone of the subtropics, on Jeju Island resorts have the opportunity to relax actively. Popular with visitors to the island diving and hunting, and on the coast are open horse riding and bike rental, as the vicinity of the resort areas are very picturesque and deserve close attention and long walks.
For active and athletic
Winter resorts in South Korea are different special technical equipment and well-groomed trails. It also felt east scrupulousness and accuracy, as well as on the beach recreation areas:
Muju is unique not only because of its slopesTogyusan located in the national park, and the length of one of the tracks is more than 6 km. This ski resort in South Korea, you can warm up in the middle of winter in the hot springs, thermal waters are warmed up to 43 degrees.
Yongpyong Ski Resort dosochnikov prefer, because for skiingsnowboarding here built a great modern fun park. Hone skills can not only halfpipe or round-kvotere, but also on numerous rails and Trump.
Photo