Metro in Busan: circuit, photos, description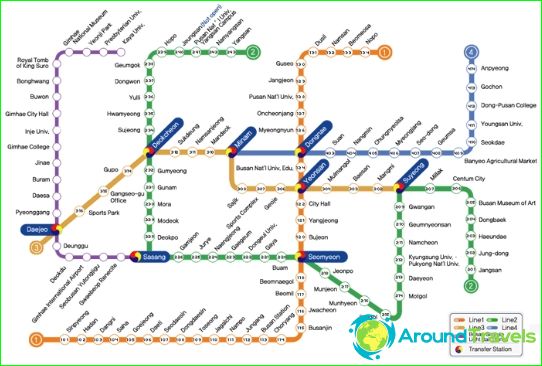 Metropolitan Busan opened the summer of 1985. The second in the number of resident population of the city of South Korea was desperate for the subway, as the problem with the traffic jams caused constant crashes in vehicles.
Today, in the subway Pusan ​​operates five lines,total length of 132 kilometers. For entry and exit, and direct passengers can take advantage of 128 stations. Branches Busan subway cross the city in different directions, and connect the western and eastern suburbs to the center, north and south. Four subway lines represent full underground routes, each of which is marked on its color schemes. Another branch - light rail.
Line 1 has a yellow marking and connectsSinphёn station and NCEP. It was discovered the very first, it stretches for 32 kilometers and includes 34 stations. "Yellow" branch runs north, crosses the city center, descends to the south, where makes a turn to the west.
Line 2 was commissioned in 1999 andIt marked in green. Its length is 45 kilometers, the entire route runs 43 stations, are finite and Chansan suburb Yangsan. "Green" route connects the north-west from the city center, and then continues to the south, southeast and east.
The third branch of Busan subway is in Schemes light brown color and connects the west, center and south-east of the city. Its length is 18 kilometers and take passengers 17 stations opened in 2005.
The shortest line - "blue". It runs from the center to the east and has a length of 12 kilometers. For the needs of the passengers on the "blue" route, put into operation in 2011, opened 14 stations.
Violet in the diagrams marked branch 5,which is light rail. It starts in the north-western outskirts of the city, goes to the penny, and turns to the south, and then east. On it you can transfer with "yellow" and "green" route Busan subway.
Tickets for the subway in Busan
To travel on the subway in Busan should purchasetravel documents from vending machines at the stations. The fare depends on the zone in which is necessary to the passenger station. The machine Ticket menu there is an option in English. The names of subway stations in Busan schemes also duplicated in English.
Metro Pictures Busan