Metro Daejeon: circuit, photos, description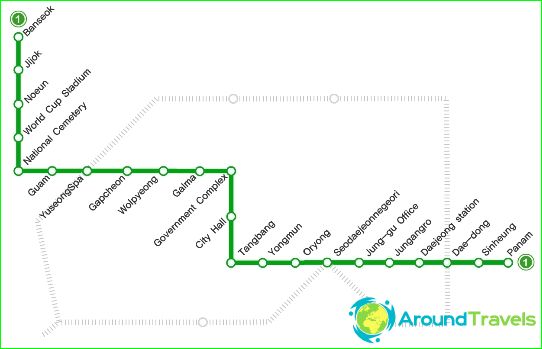 The fifth largest country in the South Korean cityDaejeon is called the scientific and technological capital. It resides at least one and a half million people, and therefore the question of the construction of the subway went up in the last century. As a result, the project was approved and the construction, which was completed in 2006. The commissioning of the first phase of Metro Daejeon. The line stretches for 12 kilometers and 12 stations were opened on the route. A year later, the opening of the second part of the first leg, with the result that passengers were still 10 stations, and the route was extended to 10 kilometers.
Today, citizens and guests of the city canuse the metro line, the length of which exceeds 22 kilometers. The route was built 22 stations for input, output, and transplant to other types of public transport. The final stop metro Daejeon - Panama Bansok.
Tickets for the metro Daejeon
The fare on the subway in Daejeon madevending machines at the stations. They issue tickets, which must be activated by special turnstiles. Automatic cash have English menu, which greatly simplifies the task for the foreign guests. The names of stations on the charts and on the platforms also duplicated in English.
Metro Photo Daejeon