Incheon Subway: circuit, photos, description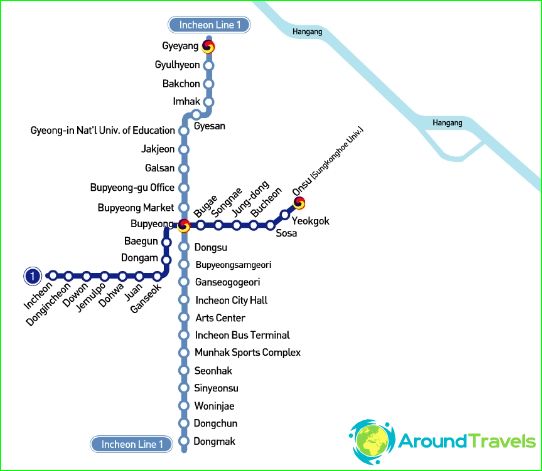 In adjacent to the metropolitan city of Incheon in SeoulSouth Korea has its own subway system, which is used by at least 200 thousand people daily. The first phase of Metro Incheon was commissioned in 1999. Passengers got a line that crosses the city from north to south and had a length of 23 kilometers. Passengers can use for transplant to other forms of transport and entry or exit station 21. All of the first branch, except for a small area, was built underground way. Today is the first metro route Incheon has a length of 30 kilometers, in which 29 work stations.
The second line is in the process of the subwayactive construction. So far commissioned 29 kilometers of tracks and 27 stations for the entry and exit of passengers. For convenient travel between Incheon and Seoul Subway these two cities are integrated into a single transport system.
Tickets for the Incheon Subway
The fare on the subway in Incheon is madesmart card, which replaced the conventional paper tickets. They must be purchased from vending machines at the entrance, which provides a menu and an English version. Entrances to the subway station of Incheon city marked by high rectangular steles, illuminated at night.
Incheon Subway Photos