The trip to South Korea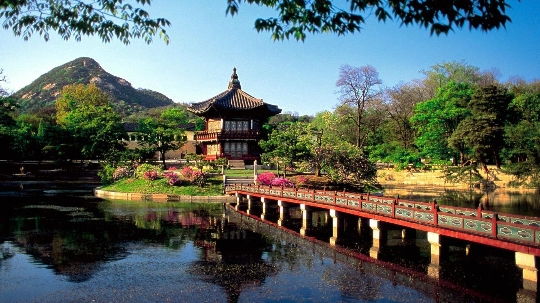 If you think that the Land of Morning Calm (this is called their homeland locals) - a miniature replica of Japan, then a trip to South Korea is completely refute this postulate.
Public transport
The public transport system is perfectly debugged. Moreover, the fare is quite low.
City buses for tourists are not available, since all the inscriptions are only in Korean. That is why the main means of transportation in the city - the metro and taxis.
subway
"Subways" is in the following cities: Seoul; Busan; Daegu; Daejeon; Incheon; Gwangju. Tickets can be purchased on the old-fashioned way at the box office or ticket machine. Conveniently, all the inscriptions in the metro necessarily duplicated in English.
Subway lines can be found on the windowticketing. It is also duplicated in most cases in English. Without going into the details of price, rather tell the cashier the desired station. If next to the cash register there is a yellow box, then there are free maps of the subway.
intercity
In the country you can comfortably move around on buses. clean machines, equipped with air conditioning. The journey between major cities often go - every 15-30 minutes.
On the route and express buses go,however, tickets cost a little higher. But space for passengers is fully equipped. It offers even the TV and VCR. Tickets must be booked in advance.
Taxi
Taxi drivers South Korea's myriad. Find a car in the parking lot can be, which are many. But you can get a taxi in the street traffic.
In total there are several types of taxis:
Classic Taxi. Tour price depends on the distance and time spent on the road.
Taxi "Brand" on call. Equipped with a cash register, the translators.
Taxi "Lux". This black car with a sign "Taxi" on the roof. Beauty machines are more spacious when compared to conventional taxi. Be sure given a receipt of payment for travel. Night rate is missing.
Multiplace taxi. This classic minibuses designed to carry 8 people.
International Taxi. Taxi to not speak Korean tourists.
In the capital, for a trip you can pay by credit card.
airlift
Major companies airlines: Korean Air; Asiana Airlines. The company serves both domestic and international air travel.
All in all the territory of South Korea's six international airports: Incheon; Gimhae; Jeju; Daegu; Yangyang; Jeonju.
Railway transport
This railway - the main way to get around the country. The country is the only passenger carrier - "National Railways of Korea"
Tickets are best purchased in advance, especially if the trip is planned for the weekend or holidays. Trains on these days are filled to capacity.
Photo