Beaches in Colombo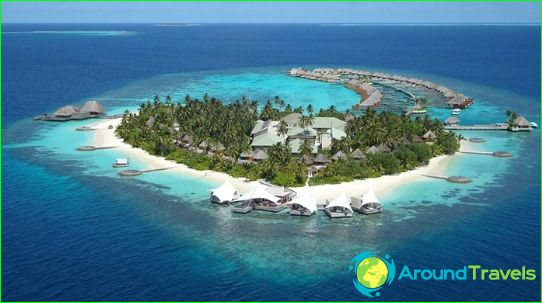 Colombo - the largest city in Sri Lanka State,located in the Western provinces. Beaches in Colombo presents quite a large number and are ready to meet their guests all year round, because the thermometer scale in this country never drops below 27 ° C.
Beach Bentota
The city is located 65 kilometers from Colombo. The local coast delights its guests with neatness and incredibly beautiful landscapes. Here you will meet the sandy beach with convenient descent to the sea. Access to the beach area is free, but for the right to use sunbeds and umbrellas have to pay.
The beach town of Beruwela
The sandy beaches of Beruwela town arean incredibly beautiful place. The total length of the beach area - 13 km and for all throughout the one hand they are accompanied by gentle blue waters of the ocean, and on the other - magnificent coconut groves.
Log into the water on the entire space gently sloping beach area, which is convenient for couples, families with children. Kids comfortable flounder near shore.
Beach Ambalagoda
The beach area is quite Ambalagodafar from the city, to be more precise, the 85 kilometers. This is the best place for family and leisure in a circle of friends. Here you can enjoy your favorite windsurfing or play beach volleyball. I don `t want? Then just go fishing.
The beach is easy descent into the water. Landscapes surrounding the beach area, very impressive.
Beach Kalutara
Kalutara Beach is a fairly widethe coastal strip, covered with large yellow sand. Here vacationers can rent a sunbed and umbrella. On the beach there is a small cafe where you can eat.
You can get here by train or bus. Sama Beach Area is located 40 kilometers from Colombo.
Mount Lavinia Beach
This place is located in the cityDehiwala-Mount Lavinia, is located a 30-minute drive from Colombo. This area - a nice sandy beach with convenient descent to the sea. Beach chairs and umbrellas, and allowed to use for free if you are staying at one of the nearby hotels or are a guest of the local restaurants or cafes.
The beach has a rescue tower, as the sea is sometimes big waves rise. But they, and become a magnet for enthusiasts here to ride on the waves.
Beach Negombo
Give preference unhurriedpastime, then choose Negombo. It's simple breathes tranquility and peace. But if you want you can windsurf, take a walk on the sea floor diving or fishing from the yacht.
the beach is quite well developed infrastructure. Sunbeds and umbrellas for protection of the burning rays can be rented without any problems.
Beaches Moratuwa
Here you will meet a very beautiful local nature. Hotel services and facilities in this beach area surfing, playing water polo and other water sports.
Sun beds and umbrellas are available for free, but it will take to make the order at a local cafe.
Photos Colombo beaches