Best Resorts in Sri Lanka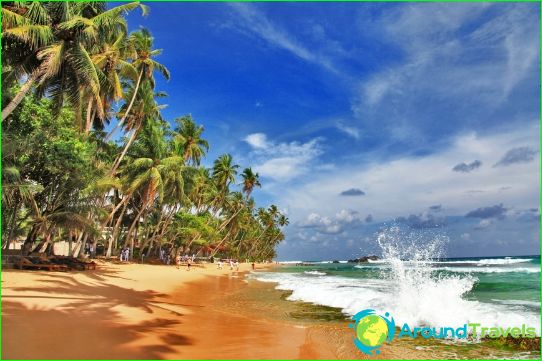 An exciting trip to the island of dreamslocated in the Indian Ocean, will long remain in your memory parts. Sri Lanka - a magical place where you will meet the incredible natural beauty, exotic flora and fauna, the splendor of the waterfalls, majestic peaks and magnificent Buddhist temples. Top Sri Lanka resorts will enchant you with the azure surface of the ocean and clean warm sand.
Ahungalla
City Resort, located near the capitalthe country will amaze you with its magnificent palm trees, beautiful beaches, covered with sand the color of gold, aquamarine and coastal waters caressing the ocean. Here are the most beautiful hotels and country.
Bentota
Another well-known resort area of ​​the country. The resort, located on the same river in the place where it merges with the Indian Ocean, offers one of the largest centers for water sports. Here you can visit a wide variety of water rides or enjoy a favorite windsurfing, water skiing or catamaran.
You will definitely be offered a boat trip onriver. Do not give up, because it's a great opportunity to admire the exotic beauty of the island of nature, see the mangroves and watch the little life of their inhabitants.
Here, like-minded romantic natures. Quiet relaxing holiday with beautiful scenery.
Beruwela
Resort town located just one hourdrive from the capital city of Colombo. coastal water temperature is always comfortable for swimming, no matter what season of the year you choose to travel. The beaches of Beruwela, surrounded by tall coconut trees, offers not only beautiful sunbathing, but also an opportunity to engage in his favorite kind of water sports. Here you can rent equipment for surfing, walking on the water-skiing or diving.
Warm ocean water is stored in a multitudethe most interesting places for divers. Wrecks, magnificent coral gardens with numerous inhabitants, shoals of fish of incredible colors - it is only a small part of the underwater treasures of Beruwela.
Marawila
The small resort town located on thecoast of the island. Beautiful beaches surrounded by mangroves and beautiful scenery sure to remain in your camera's memory. And then when he was already at home you will be considered once these pictures, remembering the wonderful moments of relaxation in this wonderful place.
This resort became a wintering place for many migratory birds, so you will have an exclusive opportunity to observe rare species in their natural habitat.
Photos of Sri Lanka resorts