Coast Sri Lanka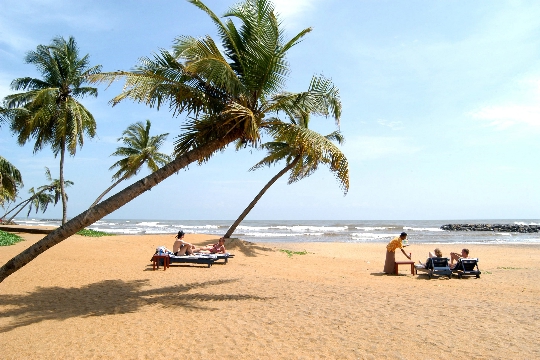 In Sri Lanka Coast is best addressedsurfers, nature lovers, loving couples, young companies. As for the rest on the Sri Lankan coast with the children should be taken into account that in some hotels or there is not enough entertainment for young travelers, either their stay is not provided on site (but in some hotels in the children adopted when they reach a certain number of years ).
Sri Lanka resorts on the coast (especially holiday)
On the south-west coast (the best time toVisit - November-April) you will be glad to pristine beaches, lively nightlife, fascinating and beautiful places; and on the East Coast (better to go here in May and October) - Arugam Bay Lagoon, Nilaveli beaches, attractions Batticaloa, Hindu and Buddhist temples, natural hot springs, opportunities for diving, snorkeling and surfing.
Cities and resorts of Sri Lanka on the coast
Bentota: at this resort you can spend time at Paradise beach (the most active entertainment available surfing and canoeing, fishing, cruise on a yacht, diving immersion, allowing admire the corals, caves and canyons, and the evening program allows you to hang out in discos, which are organized by the coastal bars ), visit the water safari (river Bentota Ganga), inspect the temple Vanasava Raja Maha Vihara and the ruins of the complex Galapata Vihara.
Negombo: is worth exploring the remnants of the Dutch fort (built - 1672), visit the tea plantations in the vicinity of the tourist center and the beach at Negombo Beach (conditions for windsurfing and sea fishing, is available for rent sun beds and umbrellas).
Beruvella: here is to get jewelry with moonstone, explore the Masjid-ul-Abrar and lighthouse Barberyn Island Lighthouse, spend time at local beaches, 130 km (ideal for scuba diving, family vacations, fishing, surfing, water polo).

Kalutara: this resort offers a visit to the February parade Navam Perahera (it is accompanied by performances, which is attended by dancers, torch-bearers, temple elephant, musicians), boat trip on the river Kalu River, explore the stupa Gangatilaka Vihara, go underwater fishing, sailing, windsurfing on the local beaches.

Hikkaduwa: Resort offers visit the Coral Reserve, to do the study of the British ship Earl of Shaftsbury, visit Hikkaduwa Beach beach (diving, surfing, turtle feeding early in the morning, a boat ride with glass bottom), to acquire jewelry with sapphires, rubies and topazes.
In the Sri Lankan coast travelersIt will be able to relax on the sandy beaches, spread over thousands of kilometers, to explore the lost ships (about 20 objects of 19-20 centuries), located at 8-30 meters depth, experience the effect of Ayurveda and aromatherapy.
Photo