Culture of Sri Lanka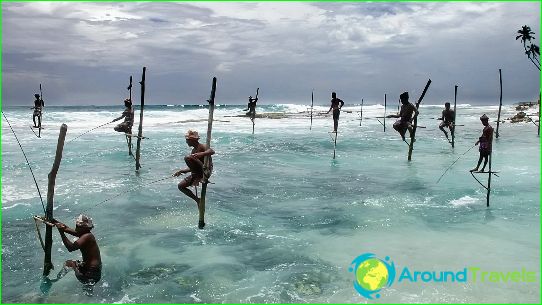 Far Ceylon, on which theRepublic of Sri Lanka, "drifting" at the southern tip of the Indian subcontinent. In the culture of Sri Lanka certainly have due influence customs and national characteristics of the big neighbor, and therefore painting, music, architecture and crafts inhabitants of the island is largely reminiscent of the Indian tradition.
Tooth from the past
Sri Lankan Culture has more than onemillennium, because archaeologists have proved that the first humans existed on the island already in the Stone Age period. Then Ceylon Sinhalese settled tribes, who arrived here from India in about the VI century BC After three hundred years on the island enters Buddhism, and it is this religion becomes one of the main and imposes a serious mark on Sri Lankan culture.
In the town of Kandy in a Buddhist monastery housesthe most important relic - the tooth of the Buddha. According to legend, he was brought to Ceylon in the IV century, where specially for storing shrine built after the temple. Relics attributed medicinal properties and magical powers, and the fact of its existence is a guarantee that Buddhism will remain on the island as the main religion.
UNESCO and its list
In the list of World Cultural Heritage were several objects of Sri Lanka:
The rock fortress of Sigiriya, carved into the rock in the V century. Its main value was a mirror hall with frescoes. Their height reached 40 meters and the length is more than 140 meters.
Golden Temple of Dambulla cave known since Icentury BC Its importance in the Sri Lankan culture is huge, because it is a place of pilgrimage for more than two millennia. The sacred temple complex called the largest cave structures in South Asia.
The medieval capital of Polonnaruwa with CeylonStone Temple and the four statues of the Buddha of the XII century. The colossal size of the statues has not prevented sculptors convey realism and human features of a deity.
Tea plantations
Sri Lankan Culture - it and its famous teaplantation tour which offer travelers many tourist companies of the country. This Ceylon tea is considered one of the most high-grade, and its variants allow gourmets and collectors get a true pleasure during your vacation or holiday in Sri Lanka.
An important subject of export are on the island andgems. In Sri Lanka the culture they have always occupied a place of honor. Jewelry is the subject of decorating the national dress of the nobility, and their production has brought untold revenues mines owners.
Photo