Holidays in Sri Lanka in February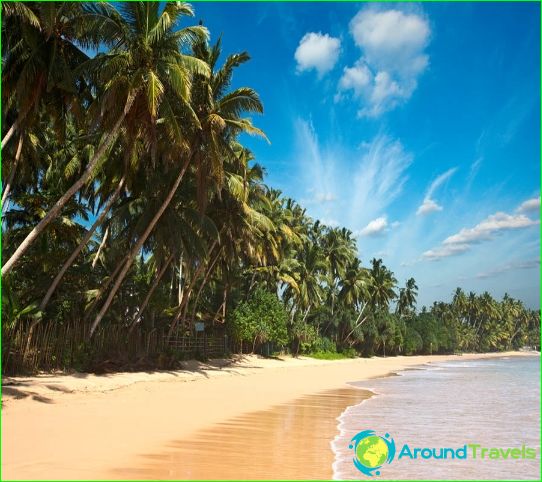 In Sri Lanka, summer lasts all year round,no matter what month of the calendar. This is because the island is at the equator and the air temperature is around 28-30 degrees. Only deposits can be more or less intense. February for this island country is very favorable for relaxation month. Especially good weather without frequent monsoon rains observed at this time in the inner regions and the south-west of the country. In this part of the resorts of more sunny days. Therefore rest in Sri Lanka in February will be very busy, and you can freely nakupatsya and sunbathe.
What can visit in Sri Lanka
For those who are not indifferent to the history of otherpeoples who are interested in the achievements of the ancient civilization of Sri Lanka is a paradise, because there are numerous historical monuments of the thousand-year-old palaces where kings used to live on the island are beautiful gardens with irrigation systems, forts and much more.
Almost 100 years ago, we discovered the ancient capitalAnuradhapura. According to archaeologists, the first people settled here in the 5th century BC Restoration work carried out in the present. Of great interest are the stupas, monasteries and temples. This city and today the time is sacred for Buddhists all over the world, where thousands of the faithful make pilgrimages. Historic Sites there are many - is the city of Polonnaruwa and Kandy, which are part of the Cultural Fund of the Triangle.
If you want to become more familiar with the country, then you have to come here more than once, because memorable and interesting places here abound.
Things to do on holiday?
Tourism here is very developed, but because in the resortcities you can go on a river safari, ride on elephants. Very popular with tourists canoeing and jeep safaris, you can relax a couple of days in the lap of nature in tents. And here you can not only relax, but also to note the marriage with the national colors. Newlyweds will be dressed in national costumes, wedding ceremonies used local and take part in the wedding ceremony ... elephants. This wedding will be unique!
Photos holiday in Sri Lanka