Railways Sri Lanka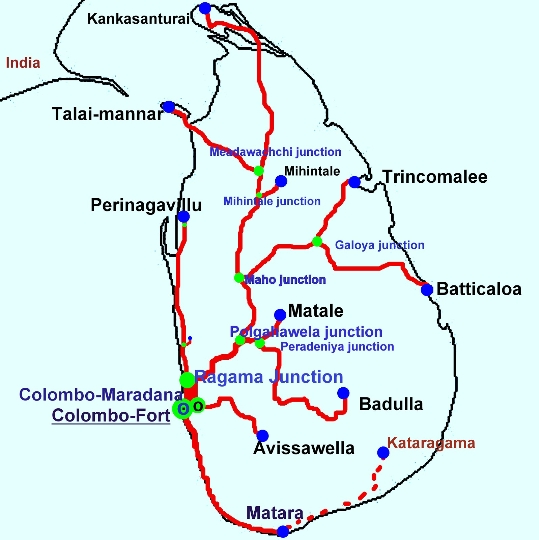 Railways Sri Lanka earned the trustpassengers. They ensure uninterrupted communication between the various localities of the country. Locals prefer to travel on trains and buses. The approximate length of the railway of the country is 1447 km. The train runs on schedule, without delays or failures.
Features of the Sri Lankan w / d system
In Sri Lanka, the quality of the railwayPosts greatly influence the natural factors, such as alluvium and debris. However, trains are considered to be the most reliable means of transportation in the country, as well as buses. Office of the rail system is the National Company "Railway Sri Lanka» (SLR). This organization is the sole owner of the railways of the state roads. The main railway line goes through the center of the country and connects the popular tourist destination.
The railway network in Sri Lanka recovered 9 linesand the main station of Colombo Fort. Charts movement of trains are presented on the website of the company "Railways Sri Lanka» - www.railway.gov.lk. Heavy rail link is maintained between major cities. From the main station in Colombo compositions follow in Negambo, Kandy, Bentota, Polonnaruwa and other settlements. The downside of the railway system is the lack of trains. They ply rarely. For example, through the Colombo - Kandy Day 5 moves / Railway stock. The comfortable conditions are maintained for branded passenger trains.
Tours and Tickets
All trains in Sri Lanka, following through Colombo,make it dock. Passengers have to change. A feature of the railway communication is frequent late trains. The trains used the division of seats in the three classes. To take the right place, the ticket must be booked well in advance before the intended trip. On many routes, trains are crowded. The fare depends on the route and class. Tickets for the first-class seats are more expensive. In the first class passengers are offered comfortable beds and additional services. In the second and third-class comfort level is much lower.
There are sightseeing tours in Sri Lanka totourists. According to him shuttle trains that belong to private persons. Rail transport is ideal for sightseeing trips over long distances. It is cheap and allows you to see the country. The trip from Colombo to the farthest station will cost about 300 rupees.
Photo