Cuisine of Sri Lanka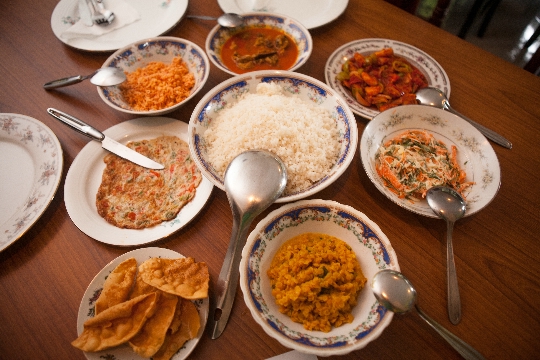 Cuisine of Sri Lanka - the kitchen, which was formed through the influence of the Indian and the culinary traditions of the peoples of Asia and Europe.
National cuisine of Sri Lanka
Sri Lankan dishes are mostly rice,vegetables, fruit, fish, vegetables, and spices. It is worth noting that in some of the traditional dishes add coconut milk, palm nectar, coconut chips (it is made from the pulp).
Especially curry favor - so often referred to asany food prepared from a mixture of spices that are ground to a powder (coriander, chilli, cumin, turmeric, mustard, garlic, ginger). Thus, with this mixture prepared meat, chicken, vegetables, lentils. In addition, together with the curry is often served pita bread (made from rice flour, water and grated coconut). Speaking of sauces, then in Sri Lanka are particularly fond of the sauce oro, which is composed of fruits and spices.
On the coast, in honor seafood -tuna, squid, shrimp, clams, which are seasoned with traditional herbs and spices. As for sweets, there are popular kyavum (like donuts) and aluva (local halva).
Popular dishes of Sri Lankan cuisine:
"Coconutchickencurry" (curry rice, chicken, spices, coconut milk);
"Malayachcharu" (spicy pickled vegetables);
"Jaffinakool" (soup with rice, crab, flour, tamarind, prawns, chili paste);
"Palakdal" (is a soup with lentils, spinach, spices).
Where to try the national cuisine?
Vacationers can recommend to Colomboto look into the "Raja Bojun" (in the restaurant guests are served a salad of fresh vegetables and meat with curry and rice), Kandy - in "Devon Restaurant" (in this restaurant should eat seafood and meat, seasoned with aromatic spices) in Halle - in the "Mamas Galle Fort Roof Cafe" (to eat the best curry in the city can be in this institution). Tip: If you order a meal will cause a burning sensation in the mouth, do not "extinguish" the fire with water - it is best to cope with this problem cold plain yogurt or plain boiled rice. It is worth noting that in addition to white, red rice (say: "redrice") can be ordered at local restaurants.
Cooking classes in Sri Lanka
If you wish to sign up for cooking classes can bein Unawatuna: before you start cooking in Sri Lanka's national dishes, you will be prompted to choose fresh foods and spices at the local market. It should be noted that the local hotels run restaurants, where guests can cook fish, lobster, squid (seafood and fish, you can choose yourself), which is served with different sauces to a specific time. And the cooking process can be observed and take note of some culinary secrets.
Gourmets visit to Sri Lanka, it is advisablepodgadat for holding gastronomic festival spicy food "World Spice Food Festival" (October) and the International Festival of spices (October-November, Colombo).
Photo