Sri Lanka Drink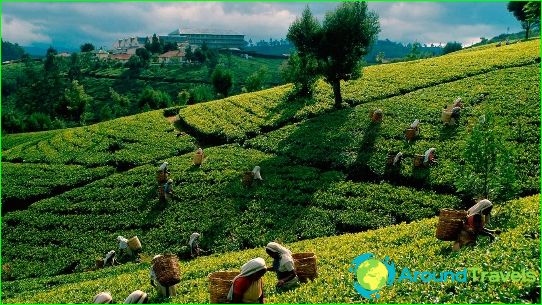 Faraway Island Sri Lanka - an oasis beach holidayand fascinating excursions in the midst of the vast Indian Ocean. Culture and traditions of its people, Sri Lankan cuisine and beverages small countries have Indian roots. Yet the island is different from the big neighbor, but in order to find out what it is, enough to buy a tour and start to collect suitcases.
Sri Lanka Alcohol
It is not necessary to burden the luggage too muchthe amount of alcohol. Firstly, the country's customs will not allow to transport more than one and a half liters of wine and the same - hard liquor. And secondly, on the beautiful island has everything you could wish for a soul to rest, and alcohol prices Sri Lanka contribute to the acquisition, without undermining the family budget buyers. Coconut arrack vodka costs about $ 5 per 0.5 liters, red rum - no more than $ 9, and local beer and $ 1 cheaper at all (in prices at the beginning of 2014).
Sri Lanka's National Drink
Once a beautiful island called Ceylon, andit is the local tea won the hearts of many gourmets and fans of flavored beverage. It began to grow on an industrial scale in the mid-nineteenth century, and today the national drink of Sri Lanka delivered more than a hundred countries in the world, accounting for 15% of the exports of the state. The first planters in Ceylon were James Taylor and Thomas Lipton. The latter became a real "tea king" world level thanks largely to Ceylon plantations.
The bulk of the tea grown in Sri Lankamake black and green, but a small fraction of oolong and white varieties are also present. Customs regulations regulate the export of the national drink, prescribing only two kilograms for each departing.
Alcoholic Beverages Sri Lanka
For those who like it hot, Ceylon offers a range of alcoholic drinks of local production, in which you can satisfy all tastes and needs:
Beer Lion, the bottle is the volume of 0.65 litersIt costs less than a dollar. The taste - refreshing with a slight bitterness. Buy it recommended in roadside shops at the entrance to any city, where prices are lower, and the choice - richer.
Strong and high quality "Arak", insist on the grass in full accordance with the rules of Ayurveda. A liter costs about $ 7, a clear head in the morning is guaranteed if tasting Lion postponed for another time.
Gene or local bottling whiskey may seemEuropeans unusual, and the health consequences are often unpredictable, due to insufficient cleaning of these beverages from fusels
Photo