Resorts in Sri Lanka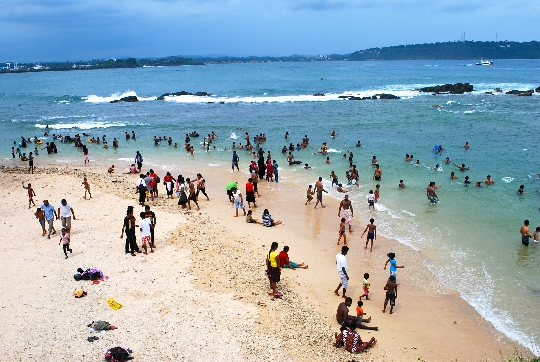 Homeland of the famous Ceylon tea, the islandSri Lanka today - a popular beach in the direction of Russian tourists. Those wishing to dive into the depths of winter in the warm turquoise waters of the Indian Ocean does not confuse or a long flight or an exotic local cuisine or some relaxation of local residents who are not in a hurry to get off with the legs in an attempt to please come in large numbers, but on the contrary, do everything slowly and steadily. Choosing Sri Lanka resorts as holiday destination, a potential tourist gets perfect scenery, an abundance of fresh fruit, a lot of interesting excursions and hundreds of striking photos in a family album.
Always in the TOP
The extent of the popularity of various resorts in Sri Lanka - the concept is very conditional. On the beaches of the island is always and everywhere a lot of tourists, so that the cause - a pleasant climate and a good attitude to the guests:
Negombo deserved respect in the tourism fraternity through clean sea, interesting excursion program around and small distance from the International Airport.
Novelty Hospitality Fund attracts Induruwafans of modern architectural forms of hotel and fans of relative privacy. This town is not as popular as the older brothers, and therefore the price it nice to differ in the smaller side.
Most sports and active travelerschoose Kalutara. This Sri Lankan resort is famous for its opportunities to do water sports. Offices rental of equipment for windsurfing, underwater fishing and water skiing in a large number of open directly on the beaches of Kalutara.
Lovers jewelry booking of tours in Maravilla. In this part of the island's mining and manufacturing the best Sri Lankan sapphires, topaz and rubies. Many jewelry stores offer tourists colorful precious products, and here you can bargain and get a great result in the stone is much cheaper than expected.
The underwater world of Ceylon
In Sri Lanka resorts tend to not onlyfans even tan and precious stones. A considerable part of the passengers of flights landing at the local airport, make divers feel at home in any of the seas and oceans.
One of the popular Sri Lankan diving resortsWadduwa is located just south of Colombo. The town is famous for its diving center, which teaches beginners. Is immersed in the waters of Wadduwa from October to early March, and experienced instructors speak many languages, so that problems with communication among trainees does not arise.
Photo