Sri Lanka River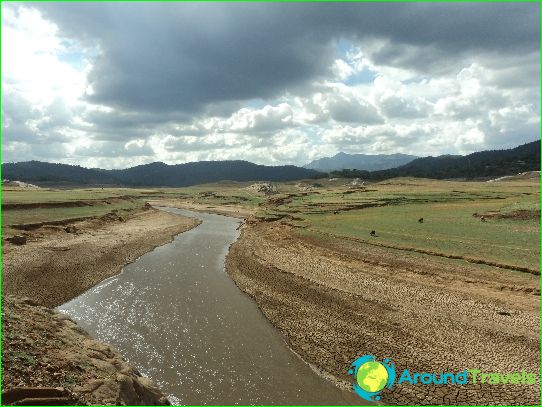 Total on the island, there are 103 rivers. The length of most of the rivers of Sri Lanka does not exceed 100 kilometers.
Mahaweli River
Mahaweli - it is the longest river on the island. flow length - 335 kilometers. The source of the river is located near the town of Hatton (Central Province). Then the river goes to the north (via Kandy), after which changes the direction of the east, but to overcome the mountain, once again turns to the north. Billabong - water of Bay of Bengal (Koddiyar Bay, just south of Trincomalee).
Kalu River
The total length of the island of the river - 129kilometers. The literal translation of its name - "Black River". The source of the river - the slopes of Mount Adam. It falls Kalou Laccadive sea water (Kalutara District). The largest tributary - the river where.
Menico River Ganga (Tangalle)
Ganga Menico - miniature river, whose waterslocals consider sacred. River channel runs through the city Katagarama, dividing it into two parts. The complex of temples, is a sacred area, is located on the north shore of the river. Sacred bathing place every year and accounted for during the religious festival in July. Locals claim that the healing properties of water give the growing trees on its banks.
The river is shallow, maximum width - 200 meters. During heavy rains poured Menico Ganges, but much shallower in a drought.
River Ganga Polvatta
Riverbed Polvatta Ganga passes through the lands of Matara District and empties into the Gulf waters Weligama (Laccadive Sea). The water in the river is warm almost all year round.
The river banks are extremely picturesque. Here there are beautiful and tropical, and lush mangroves, and natural terraces of stone, and unusual caves, composed of large boulders. Here, the practice of water-walking safari, during which you can meet crocodiles and monitor lizards.
Bentota River Ganges
One of the most beautiful Sri Lankan rivers flowing into the Indian Ocean waters. At the confluence with the ocean Bentota is the best beach on the entire south-western coast of the island.
In summer there are organized small riverwalking on the waters of the river, because there is a view on that. On the banks of Bentota are the ruins of an ancient temple Galapata-Vihara, where beautifully preserved frescoes and statues. If desired, you can be in the river to catch some fish. The river is very clean, which allows scuba diving and fishing.
Thanks to the numerous rapids of the river of Sri Lankaattract people interested in kayaking and rafting. And the best of the island in this respect are the Kelani river, Mahaweli, Kotmale Oya, Gorohoyya and Situvaka.
Photo