Damascus - the capital of Syria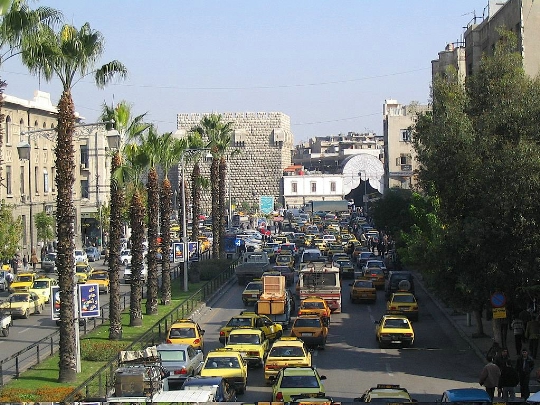 Historians say that the capital of Syria -magnificent Damascus - is the ancient capital of the world. And the fact that today a rare tourist ventures on a journey into this great city, because of the events of the war, can be considered a global tragedy.
From Damascus relate many Bible stories,so come here dream of many Christian pilgrims. The tragic irony is that biblical legend ties with Damascus first murder on the planet, which has become the innocent victim of Abel, killed by his brother Cain.
Treasury of the world
It is necessary to study the map of Damascus to meetwith its architectural, religious, cultural attractions. Old Town refers to a unique object under the protection of UNESCO experts.
The old part of the city preserved in someplaces the original layout and is surrounded by a wall built by the ancient Romans. Tourists had time to visit this great city, enjoy the photo is made in the ancient quarters, embodying the most interesting buildings and facilities: Umayyad Mosque; the ancient mausoleum of Saladin, the legendary Muslim political leader and commander, revered in many countries of the East; the palace became the seat of one of the Turkish governors of the province.
In Damascus preserved and Christian places of worship, including the Temple of the Virgin, which is the main cathedral in the city, and the church, which was baptized by the apostle Paul.
Damascus Museum
An important event took place in the Syrian capital in 1936year - the opening of the National Museum of Damascus. Over time, there were assembled the largest collection of historical and archaeological objects were added and artistic works of modern geniuses. Among the most valuable exhibits of the National Museum of the Syrian capital: alphabet, considered the earliest in the world; ancient unique frescoes; jewelry, numbering more than a century; ancient statues made of stone.
Muslim shrines
The most famous mosque was named aftercaliph of the Umayyad dynasty, it was built on the former site of the temple of the ancient Christians. Now the mosque - a Muslim center of pilgrimage from all over the world. The building is reminiscent of Byzantine palaces, as for the construction of architects were invited from different countries. The decoration used precious metals and stones, such as pearls and mother of pearl.
Photo