North Syria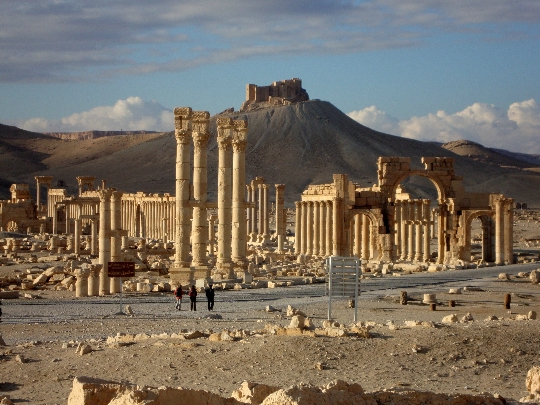 Syrian Arab Republic - a wonderfulMiddle Eastern country that has borders with Turkey. On the Mediterranean coast stretches a fertile plain, which occupies the north-west Syria. It stretches for 130 km from north to south. Most of the state is on the plateau, where dry areas are interspersed with mountain ranges. The average height of the plateau is 200-700 m above sea level. North of Syria - is a unique area where there are many ancient objects.
On the territory of the country preserved buildings,erected during the Byzantine, Roman, Arab Caliphate, and others. Many cultural monuments attract the attention of Europeans. For example, the brightest object in the Syrian state is Palmyra - Greco-Roman city, which was built in the I century BC. e. This unique facility was listed in the UNESCO World Heritage List. Ancient castles Knights are also considered outstanding monuments of culture and history. They were built during the Crusaders going to the Promised Land. Tourists are recommended to visit the villages and Saidnay Maulyul where Christian monasteries preserved.
Nature in northern Syria
The country has a poor vegetation, as allfertile soils were used in agriculture. Sea shore in some places covered with plants such as tamarisk and zhoster. In the mountains, there are the Syrian and krupnocheshuychaty oak, pine allepskaya. In coastal areas there are subtropical evergreen vegetation. Among the mammals are found in the territory of Syria, porcupines, antelopes, deer, hares, squirrels and others. Among the birds you can see flamingos, eagles, ostrich, hawk, pelican. The desert land inhabited by chameleons and ostriches.
Climatic conditions
North of Syria - an area dominatedcontinental dry climate. Closer to the coast of the country, it goes to the Mediterranean subtropical. In the northern part of the steppe zone of frequent frosts. On the coast there are wet and mild winters. In summer it is moderately hot and dry. In January, the average temperature is 4 degrees. In June, it was 33 degrees. The best time for a visit to Syria - from September to May. In the central and northern regions of hot and dry summer is followed by a cold winter. Summer and winter temperatures vary over a wide range. Also noticeable is the difference between day and night temperatures. In the mountains, the average temperature reaches 15 degrees.
Activities in Syria
To the north, going by those tourists who are interested inhistorical sites of the country. Lots of sand and pebble beaches are in the coastal region, which is the main object of attention of tourists. Syrian resorts - is visited destinations located in the mountainous areas along the coast. They are characterized by a mild climate and clean nature. The swimming season in the country begins in May and ends in November. The main sea resort of Syria - the Shatt al-Azraq, located near the city of Latakia.
Photo