Airports Tajikistan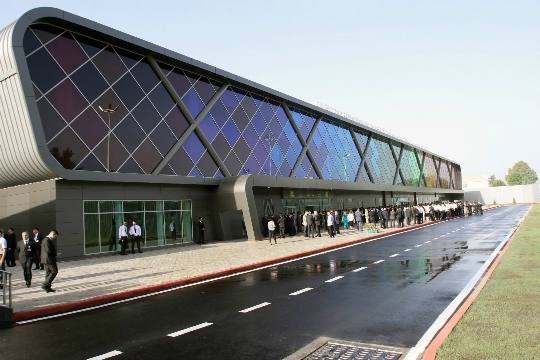 This mountainous country - the birthplace of the ancient civilizationOne of the most popular tourist destinations among travelers from CIS countries. They come here lovers magnificent views of the snow-capped peaks, the fans of this pilaf, and all those interested in history and architecture of the east. Russian tourists are always welcome at the airports of Tajikistan - even a visa to visit the country hospitable hosts he did not require.
Direct Flights to Dushanbe operate "Tajikistan Airlines", in addition to Moscow to join the Central Asian capital Wings airline UTair. Direct flight takes only 4 hours.
International airports in Tajikistan
International flights take four airports of the country except the capital and foreign guests popular:
Khujand. The city where the airport is located, the second largest in Tajikistan. The runway is laid at a height of 442 meters above sea level - affects mountainous terrain. The main visitors of this air harbor - passengers from Russia, Turkey and China. This fly China Southern Airlines from Urumqi board, Turkish Airlines from Istanbul and aircraft of several airlines from cities of Russia. In Khujand is easily accessible on the wings of "Aeroflot", S7, NordStar, UTair and "Ural Airlines" from Moscow, Chelyabinsk, Novosibirsk, Kazan, Krasnoyarsk, Tyumen, Surgut, Sochi and Samara. The airport is located in the north of Tajikistan.
Kulyab Airport in the south-west servicesKhatlon region, and it is separated from the city of 8 km. Transfer to Kulyab possible by taxi. At the airport, regular flights land "Ural Airlines" from the Russian capital, St. Petersburg and Yekaterinburg and S7 aircraft - from Moscow Domodedovo.
Air Harbor 7 km east of Kurgan-Tube receives regular flights VIM-Avia from Moscow and Saratov seasonal performed by the airline "Saravia".
metropolitan area
Major air carriers based inDushanbe airport, - Somon Air and Tajik Air. In their present schedule flights to Moscow, Novosibirsk, Almaty, New Delhi, Khorog, Franfurt, Urumqi, Krasnoyarsk, Istanbul and several other cities in the world. Regular air service between the airport, Tajikistan and Turkey, UAE, Kyrgyzstan, Afghanistan and China support the carriers of these countries - on a regular basis, and seasonally.
The new terminal at the international capitalTajik airport was put into operation in 2014. It has everything for the convenience of passengers waiting for flights. The terminal building opened duty free shops, cafes, currency exchange offices and lounges.
Photo