Prices in Dushanbe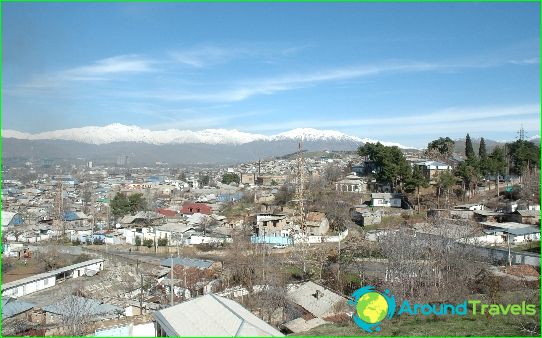 DUSHANBE - Tajikistan's main town,the capital and the largest city in the country. It is in the subtropical zone. Therefore, here is long and dry summers and mild winters. The best time to visit the capital of Tajikistan - the dry season, which lasts from July to October. Consider what prices in Dushanbe for tourist services.
What the money is used
The city is not a tourist, but it was he whobest suited for exploring the eastern peoples. In Tajikistan, as the monetary unit performs TJS or TJS. It is equivalent to 100 dirhams. Currency can be exchanged at hotels, airport or at any bank's capital. Abroad you can not locate bank branches or exchange offices.
Dollar in Tajikistan constantly jumping,therefore better to change money as needed. The country has almost no use traveler's checks and credit cards. An exception are the biggest shopping centers and international hotels. In the markets and shops in Dushanbe usually pay local money. You can pay in rubles and US dollars, but it will be a significant overpayment.
Accommodation
In Dushanbe, there are hotels of different star. They offer rooms junior suites, as well as options for economy class. Choose a place to stay - this is not a problem. It all depends on the level of tourist income and on his preferences. Many hotels of the capital were built during the Soviet era. These institutions do not look very attractive, since they have not yet gone through modernization. Some hotels even no hot water.
In this hotel you can stay for less than$ 50 per day. Upscale hotels are located in the city center. They guarantee a perfect comfort to tourists. These hotels have a 4-5 *, and provide spacious and comfortable rooms. As an additional service they offer guests a swimming pool, a fitness club, a gym, a restaurant, sauna and so on. D. The good hotels Dushanbe room costs $ 100-250 per person per night.
In addition, customers of these hotels mayfree use of the dining facilities, gyms, swimming pools, saunas, fitness clubs and other establishments located on site. The cost of living in such establishments will cost from $ 100 to $ 250
Excursions
To explore the city on their own, usebus, minibus or trolley bus. Tourists are recommended to pay attention to such attractions as the monument to Ismail Samani, St. Nicholas Cathedral, named Lakhuti Theatre, Opera Theatre of Aini and others. In the city there are theaters, art galleries, entertainment centers, cafes and restaurants. City tour costs no more than $ 30. Sightseeing tour in Tajikistan is about 24 thousand rubles. Popular route Dushanbe - Hissar - Varzob - Nurek - Ramit.
Photo