Dushanbe Streets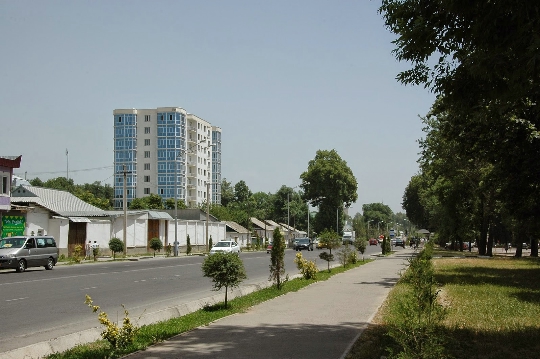 DUSHANBE - Tajikistan's main city,formed at the crossroads. Earlier in his place it was located the village. Dushanbe in 1920 became the residence of the last Emir of Bukhara, later ousted the Red Army. The city has experienced a lot of turmoil in the last century. The capital of the Tajik Soviet Socialist Republic, he became in 1929. Some of the streets of Dushanbe still retained the Soviet atmosphere, which is evident in the remaining names and monuments. In the period between 1929 and 1961 the city was named Stalinabad. Dushanbe is located between the mountains. Having retired from the city limits of only 100 m, it is possible to observe the picturesque peaks.
In the Tajik capital, there are over 250 streets. In Dushanbe, a lot of low-rise buildings. On the central streets are located two-and four-story buildings in various architectural styles.
Rudaki Avenue (street Said Nasyrova)
This is the central street of the capital of Tajikistan. Along the avenue is the main attraction of the city. He runs through the city from the airport. City center - is the area between the area Academics Solekh and Zarifa Radjabov and the beautiful park named after S. Aini. Rudaki Avenue is Russian State Drama Theater named after A. Mayakovsky Tajik State Academic Drama Theater named after A. Lakhuti, teahouse "Rohat" and other popular sites.
Capital Square
Among the main areas include the landside, Areanamed Dusty, named after S. Aini, Putovskogo and the 800th anniversary of Moscow. On behalf of the Aini Square is a monument to this writer. Around the statue placed the sculpture in the form of characters from his works. This area is united Republican Museum of Local History and Museum of Fine Arts named Behzad. It also operates the hotel "Dushanbe".
It considered the most beautiful area of ​​the 800th anniversary of Moscow. She is buried in the Indian lilac trees. The central part of the square is decorated with a large fountain. This place is popular among young people and bohemians Dushanbe. The most beautiful and elegant area Dusti considered. It is the House of the Government, as well as a monument to Ismoil Somoni and museum dedicated to the state of Samanids.
Street Somoni
Previously, the central highway was called Putovskoy. The main objects of the street: the building of the Writers' Union of Tajikistan, Ayni and Gorky monument shop "Optics".
The line stretches to Lake Komsomol, which occupies about 20 hectares. Opposite the street Ismail Somoni stretches the largest indoor market of Dushanbe - "Barakat".
Photo Dushanbe streets